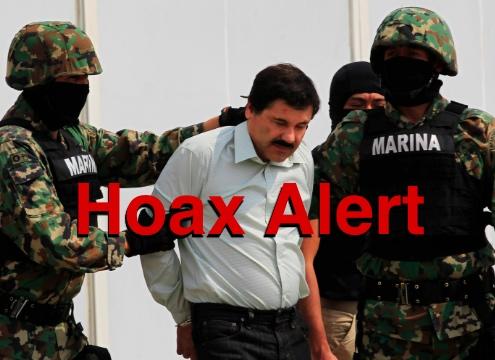 Lead Stories' Trendolizer has detected recent FALSE reports that convicted drug lord Joaquin "El Chapo" Guzman has once again escaped from prison.
'El Chapo', who twice escaped from jail and is fighting to avoid extradition to the United States, was abruptly transferred to a prison in northern Mexico near the Texas border early Saturday, and HAS NOT escaped.
The UNTRUE report of 'El Chapo's' escape was published by known hoax/satire website, empireherald.com. The false report reads:
Early this morning, drug kingpin Joaquin 'El Chapo' Guzman, head of the Sinaloa Cartel, escaped from police custody as he was being transferred to Juarez Prison...

According to El Heraldo de Bienvenidad, a Mexican news outlet, "We are in disbelief that our government has allowed El Chapo to escape again. This just shows how corrupt our government is."
Mexican government officials said the cartel boss was moved from the maximum-security prison in Altiplano to the Cefereso No. 9 prison in Ciudad Juarez, which is across from El Paso, Texas. The Interior Department said the move was due to work being done to reinforce security at Altiplano.
Although it wouldn't be hard to believe that 'El Chapo' had once again escaped authorities, he is still in custody and HAS NOT broken out.
Follow us on Facebook and Twitter @LeadStoriesCom for your daily news.