There's a trending HOAX story involving Target retail company stating "Target to Discontinue Sales of the American Flag." The NOT TRUE story steps up the game by inserting a fake "leaked document" to look more legit. Although the story comes from a HOAX website, some people are unaware of that and continue to share the lies.
A little bit from the NOT TRUE story:
Now it appears Target will cater to customers who do not self identify as American. According to a leaked memo obtained by National Report, Target will discontinue sales of the American flag and all other "patriotic" merchandise effective July 5th, 2016. The document, entitled 'Target Stores Continued Dedication to Diversity', outlines company plans to withdraw the American flag "for Target customers who do not self identify as American"
The NOT TRUE story is based on the "leaked document" so Lead Stories will debunk that. The FAKE document uses the name "Bryan Hornell, Board Chairman and CEO" which is a red flag. The real Board Chairman and CEO of Target is Brian Cornell. Below is a screen grab of the FAKE document: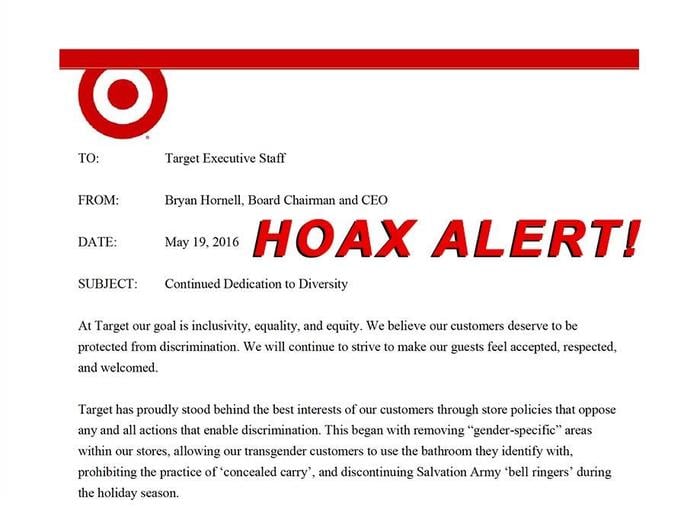 The FAKE document was created at 10:12 AM this morning which makes it hard to believe this statement from the NOT TRUE story:
As of press time, over ONE MILLION people have promised to #BoycottTarget, resulting in Target stock plummeting to levels not seen since the Bush Administration.

Target is selling all sorts of American Flag variations in their stores and online and sales will surely rise the closer we get to July 4th.
**main image: screengrab from nationalreport.net
Lead Stories' Trendolizer™ is constantly scouring the web for the hottest news, viral videos and images.
Follow us on Facebook and Twitter @LeadStoriesCom for your daily news.