An article on fake news website The NoChill tried fooling people into believing that adult actress Mia Khalifa had been diagnosed with AIDS. The amateurishly written article starts out like this:
The most famous movie star Mia Khalifa is recently diagnosed with HIV Positive Infection. As the girl was shooting with 2 other people, the industry remains in a fear of an outbreak.
It follows up with a fictitious quote from 'director' Barney Hive (who does not exist, as far as we have been able to determine):
This is the 5th case in this industry in the past 10 months. Its not about that we are loosing our actors, its about all the humans. This infection is scary and for us, all human lives anywhere on this planet matter.
Yes, 'loosing'. And 'HIV Positive Disease'. You can tell from the writing we are dealing with real experts here.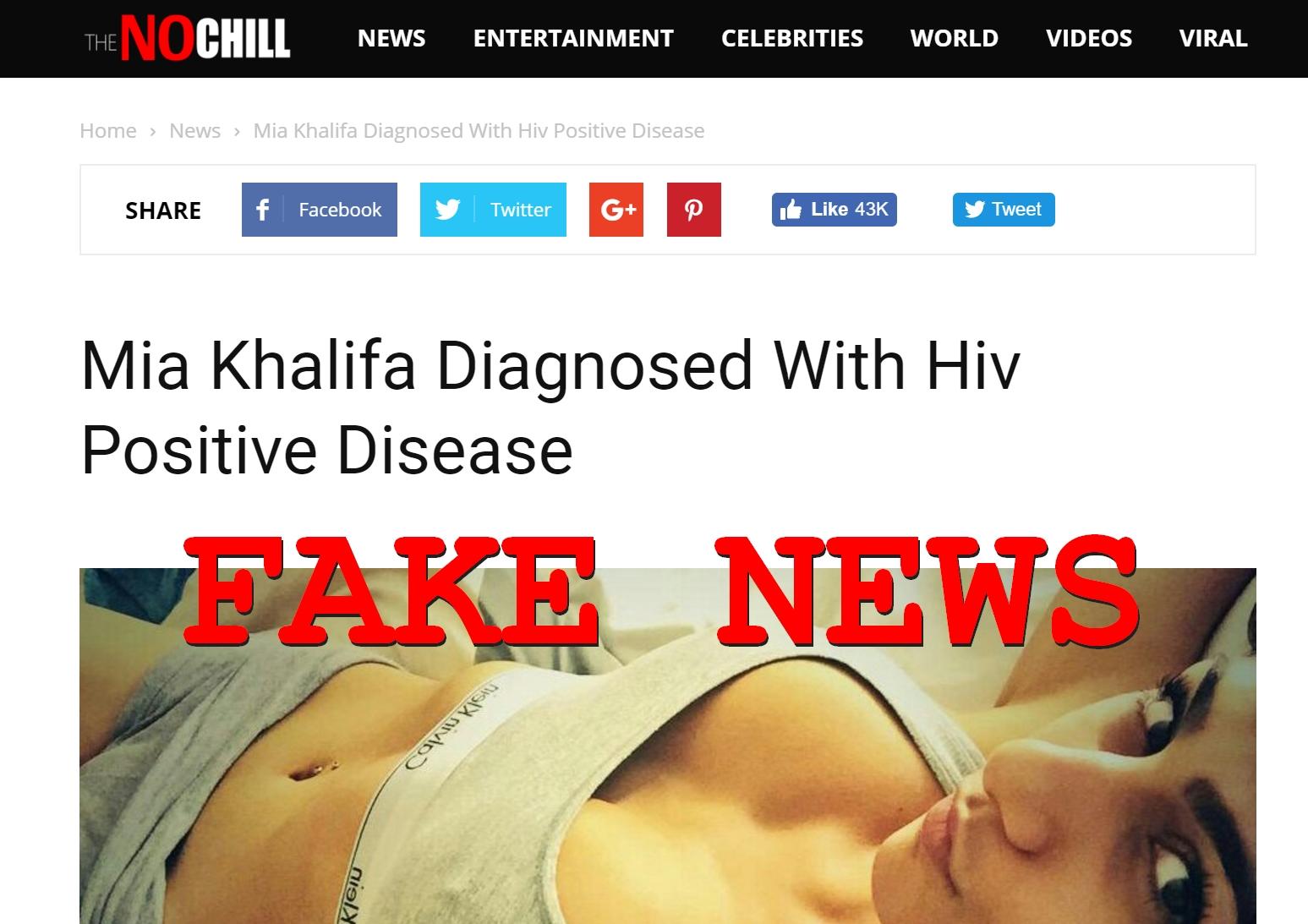 If you look at the disclaimer of The NoChill it clearly reads:
We attempt to ensure that information on this Web Site is complete and accurate. Despite our efforts, the information on this Web Site may occasionally be inaccurate, incomplete or out of date. We make no representation as to the completeness, accuracy or currency of any information on this Web Site.
In other words: anything you read on this website is probably completely made up and we don't care if it is true or not.
From Mia Khalifa's own twitter feed comes this picture:
Abs brought to you by @hintwater pic.twitter.com/4G2FoDwttN

-- Mia Khalifa (@miakhalifa) January 28, 2017
Doesn't look like someone who
...is now under treatment along with her family and friends in Us. Lets hope the further results come out good for her.
as the article claims. So don't be fooled like the thousands of people who shared this 'news' online, as this graph made with Trendolizer shows: