Fake news website Politicono posted an article titled 'Betsy DeVos Plans To Establish A Nationwide TV Program Designed To "Cure Gays Through Television"'.
It starts off:
Betsy DeVos sits on the board of a "brain performance" center whose physician operator claims he can treat ADHD with television Dr. Majid Fotuhi, who emigrated from his native Iran in the 1980s while disguised as a mullah, oversees treatments at Neurocore, a controversial chain of medical facilities bankrolled by President Donald Trump's newly confirmed education secretary, reported The Daily Beast. Neurocore claims its treatment - which requires patients to watch videos such as "Frozen" or "Mad Men" on TV while hooked up to brain sensors - helps at least 90 percent of cases involving attention deficit hyperactivity disorder (ADHD), depression and anxiety. Critics say the treatment isn't effective and serves only as a placebo that gives patients unrealistic hopes and wastes time and money.
That part is the only true part of the article, as the Daily Beast indeed reported this. All the rest of the story is made up, most notably this bit:
As a matter of fact, she has revealed plans of establishing a nationwide TV program designed to "cure gays through television" in a recent interview with The Miami Herald. "On one hand, I do understand the critics; it's probably very difficult to realize there was a way to help ADHD patients all along; a way that works perfectly, yet requires very little investment, and that nobody though about it before we did," she said.
Politicono brands itself like this on their about page:
JUST ENOUGH NEWS... Newslo is the first hybrid News/Satire platform on the web. Readers come to us for a unique brand of entertainment and information that is enhanced by features like our fact-button, which allows readers to find what is fact and what is satire.
Clicking the 'Show Facts' button at the top of the article indeed highlights only the first paragraph, indicting the rest of the article is 'satire'. But people who only see the article shared on Facebook have no way of seeing that button, all they get to see is the fake information in the title: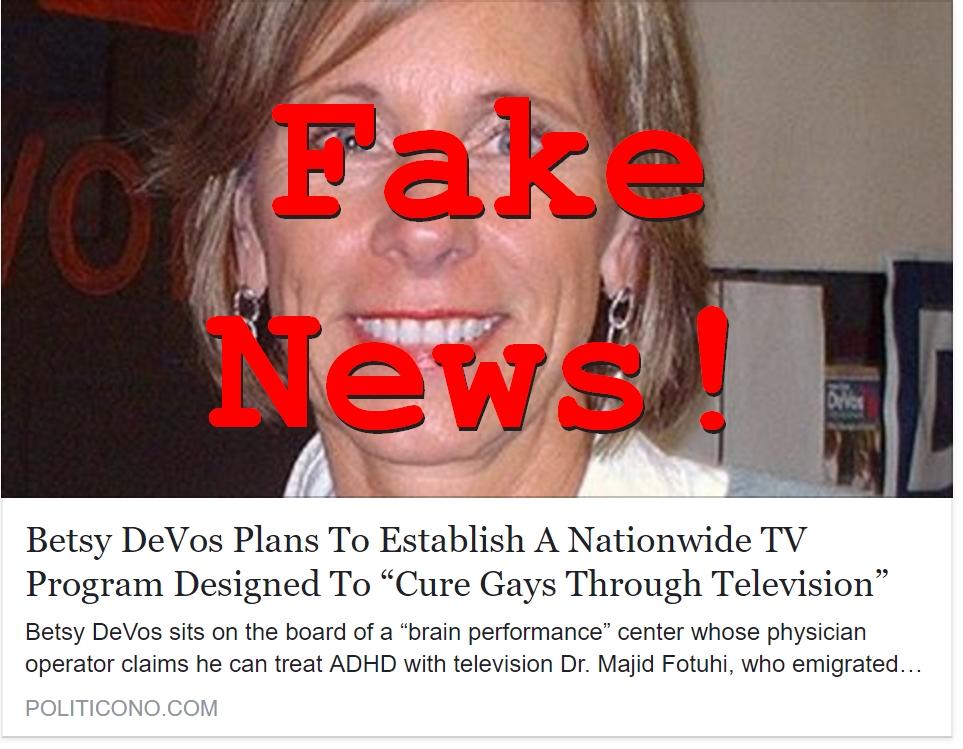 The article is being shared widely as the Trendolizer graph at the end of this story shows. Maybe we can't cure fake news through television but perhaps clicking some of the links below might help: