Hot on the heels of their previous fake story, the notorious fake news website World News Daily Report published another one: "DEATH ROW INMATE EATS AN ENTIRE BIBLE AS HIS LAST MEAL". The freshly made up story begins thusly:
Atmore, Alabama | When the prison staff asked 33-year Jeremy Morris if he wanted anything special for his last meal, he answered "I just want a Bible".

The prison guards of the William C. Holman Correctional Facility thought he wanted to pray and repent, so they gave him an old copy of the King James Bible.

Against all expectations, the condemned murderer began tearing up the holy book and eating it.
The untrue work of fiction is accompanied by a scary looking picture most likely lifted from a gallery of tattooed mugshots found online somewhere.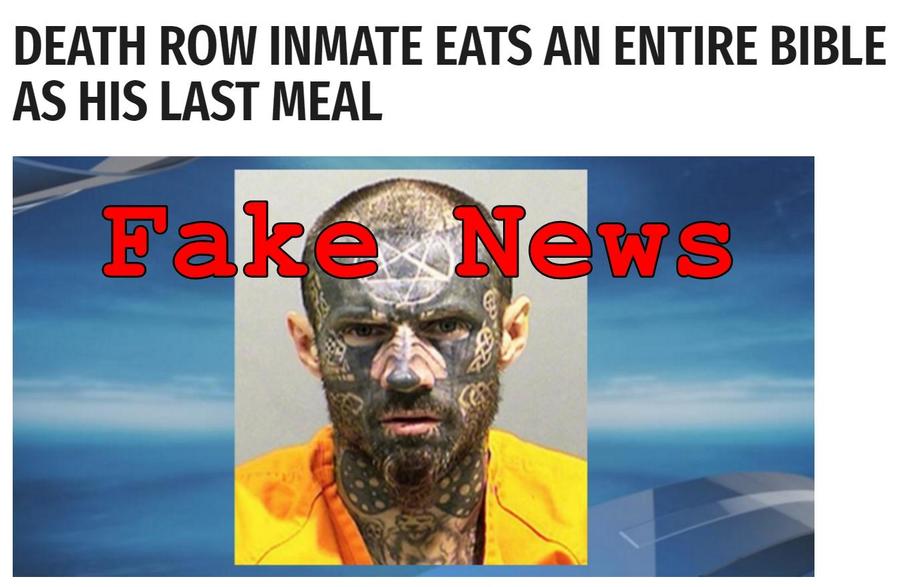 The website World News Daily Report is a well known hoax website specialized in posting hoaxes and made up stories. The disclaimer on their website is pretty clear about that even though you have to scroll all the way down the page to find it:
WNDR assumes however all responsibility for the satirical nature of its articles and for the fictional nature of their content. All characters appearing in the articles in this website - even those based on real people - are entirely fictional and any resemblance between them and any persons, living, dead, or undead is purely a miracle.
Aas you can see in the Trendolizer graph at the end of this article their newest hoax is starting to gain traction online but it is not yet too late to stop it. If you notice anyone posting it online you can help by pointing them here so this piece of fake news can be stopped cold.