A satirical site named Daily Snark posted an article titled "Somebody Started A GoFundMe To Purchase O.J. Simpson A New Ford Bronco When He Gets Out" which reads in part:
After being granted parole last week following serving nine years for a armed robbery, someone thought O.J. would need a set of new wheels when he gets released later this year.

Someone actually started a GoFundMe page dedicating to doing just that - purchasing O.J. a new Ford Bronco.

The post reads: "I want to raise money to buy Mr. Simpson a brand new White 2020 Ford Bronco when they are released, and I know you want to help!"
Since there was no link to the actual GoFundMe campaign in the article (just a screenshot) and the Daily Snark is a satire website with a clear disclaimer at the bottom of the page we were initially suspicious:
Daily Snark is your sports, news, and entertainment satire website. We provide you with the latest breaking news, memes and videos!
But after a little searching it turns out the GoFundMe campaign actually exists: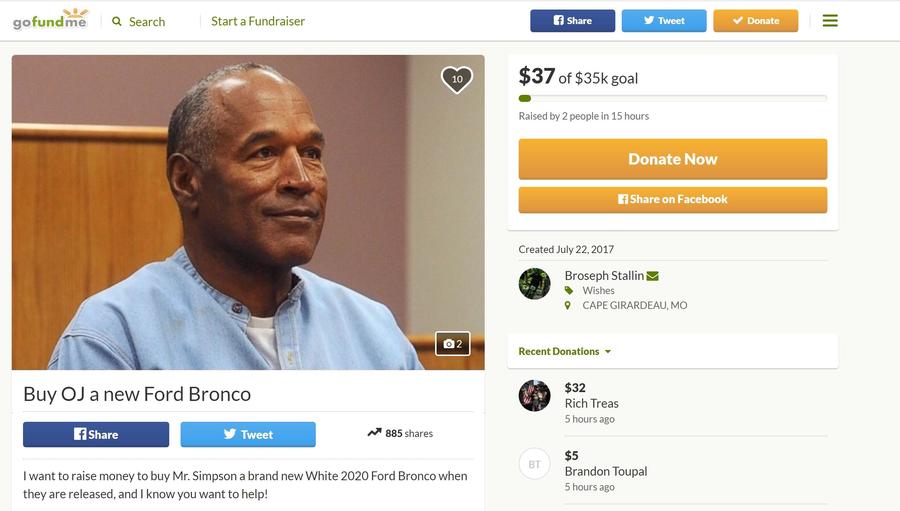 Although we doubt that with $37 raised in 15 hours the campaign will be succesful. Also, from this time.com article it appears Simpson won't be needing much help to buy himself a car when he is released since he still seems to have access to several sources of money that can't be taken away from him to pay for the damages he stil owes.
From the comments on the GoFundMe page it is more or less obvious the campaign was set up as a joke, but still, we have to confirm the fact that it exists.