Several fake news websites are running scam polls based on fake celebrity quotes, all asking a variation on "X Says Barack Obama Should Get Ten Years In Prison. Do You Support Him?". For example:
None of these quotes are real and the polls are fake too in most cases: they are designed to trick people into clicking "Yes" or "No" but instead of casting a vote this just causes popup advertising to appear from which the scammers are trying to make money.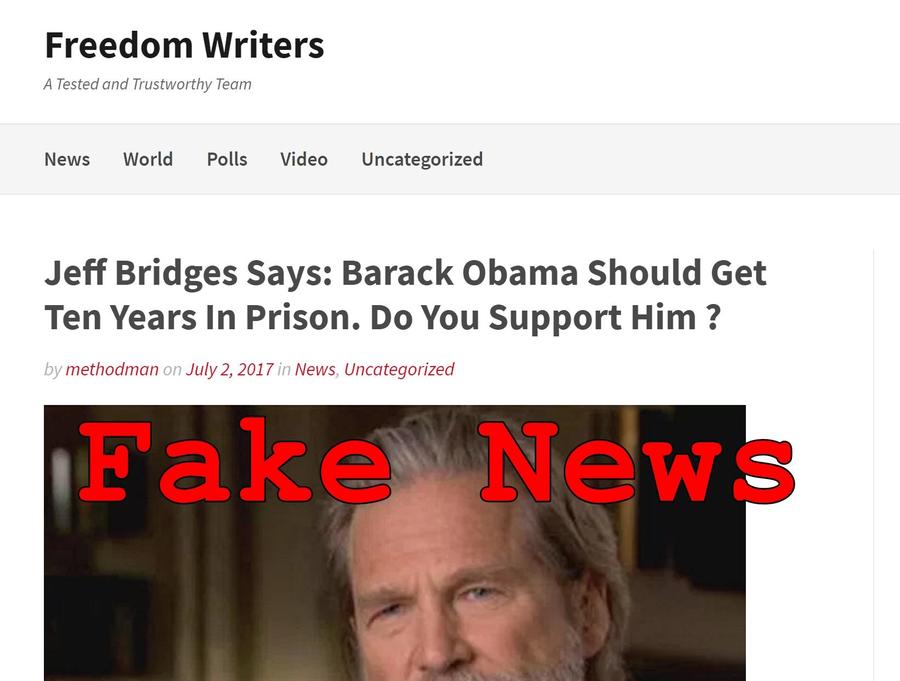 This is a common tactic by fake news websites. Earlier on we reported on a spate of fake articles claiming several celebrities said Trump is the best president and "we must respect him".
The current "Jeff Bridges" episode was probably inspired by a recent interview in which Jeff Bridges said:
"Some people will be blatantly out there talking about their disappointments and ridiculing the way President Trump is acting," said Bridges, who supported Hillary Clinton in last year's election.

"I'm rooting for him to do well by our country," he said. "I'm rooting for him as a human being to do the cool thing," Bridges said, as he pivoted back to his work against childhood hunger.
Rooting for Trump to do well is quite different from wishing his predecessor should go to jail though.
The current fake quote/poll is starting to take off according to the Trendolizer graph at the end of this article. If you do not think this is cool and will not abide while this happens, go and tell the people who are spreading these links they are sharing fake news.