STORY UPDATED: check for updates below.
Notorious self-described "liberal troll" Christopher Blair recently caught a lot of flak for inventing a fake story about a mosque and hurricane Harvey aid but that hasn't deterred one of his sites from publishing a new hoax article titled "Georgia Mosque KEEPS Hurricane Harvey Donations, Will Send To Syrian Refugees Instead". It opens:
A mosque in Georgia is under fire after they solicited donations allegedly for victims of Hurricane Harvey but decided to keep them and send them to a different kind of refugee instead.

"Because Donald Trump will not let victims of war and crime seek solitude in the United States, we can not in good conscience help his people when so many Muslims can not find shelter," said Imam Sharaj Alkalb of the Ramazala Mosque in Peachton. "Allah has told us that we must consider where the need is greater and respond to it."

The mosque recently made headlines for its "Good work" in the community. According to news reports at the time, the mosque had raised more than $340,000 in cash and supplies "for the victims of Hurricane Harvey." All of that will now be sent overseas to Syria to "help" people in refugee camps, which have been repeatedly identified as breeding grounds for ISIS recruitment.
Just like last time there is no "Ramazala Mosque", not in Peachton or anywhere else. And searching for "Sharaj Alkalb" predictably yields no results either. So the events in the article never happened and there is no need to get upset about them.
The story also contains a contact number for "Ramazala Mosque" given as (330) 366-6476 and readers are encouraged to "give them a piece of your mind". We tried calling the number and got following voicemail message:
But the same number is also listed as the number of the Facebook page of "As American As Apple Pie" on its about page (i.e. the Facebook page of the site that published the article).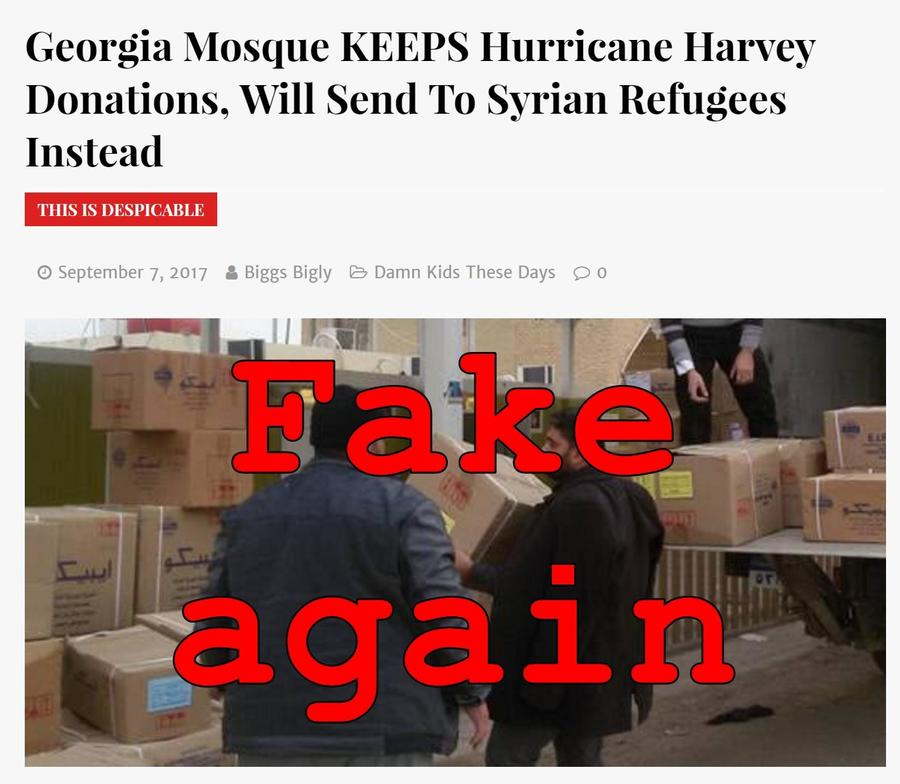 The image on the original article had an alt-text that appeared when hovering a mouse cursor over it that read "justsomemuslimswithboxesbutyouseeevil".
And as always there is the disclaimer at the bottom of the page:
When no one can trust the lying fake news liberal media anymore because they hate us and guns and Harley Davidson and meat and OUR president, As American as Apple Pie is here to be your beacon of something you can kinda rely on sometimes, but not really because only God can control our fate in this crazy, twisted world. God Bless America and Amen.
So far we haven't detected any other sites copying the article (without the satire disclaimer) but we've observed several people sharing the story on Twitter:
Tweets about Georgia Mosque KEEPS Hurricane Harvey Donations, Will Send To Syrian Refugees Instead
If you encounter this story on social media being spread by people who really believe it is true, do tell them they are sharing fake news.