A fake news site by the name of Qualitysharing posted an article titled "43 Die of Heart Attacks and 13 Hospitalized After Watching "IT" Movie, Banned from Theaters". It opened:
"It was like Freddy Kruger, Jason, & Michael Myers All Rolled into One Times a Thousand, I Never been so scared in my life I'm sleeping with the lights on f*ck that"

Said a visible shaken Jameel Mendoza after watching an advanced screening of Stephen Kings New Movie IT.

A packed theatre in Haddonfield, New York watched an advanced screening of IT and they had to cut the movie short after several people were so horrified they passed out and went into cardiac arrest.
It also had a quote from a so called expert:
Scientist Frederick Bookman gave a statement saying:
Unfortunately, movies are not just entertainment, but a way to attack your consciousness. This movie could have triggered the brain by those images, they are powerful too, and their body had a natural response to terror. Fight or flight. And sadly it was flight. So please be careful when you looking for entertainment in movies like IT. And please dont take the your children, talking about " we use to watch this when we was little". Guard your consciousness folks.
First of all, "Haddonfield, New York" does not exist. There is a place by that name in New Jersey but we have been unable to find any local media reports about a mass casualty event caused by a scary movie. We also could not locate "Frederick Bookman", the "scientist". Most of the time when a scientist is quoted in an article it will list their specialty (psychologist, history professor, quantum physicist...) so the fact that no field of study is mentioned makes this very suspect.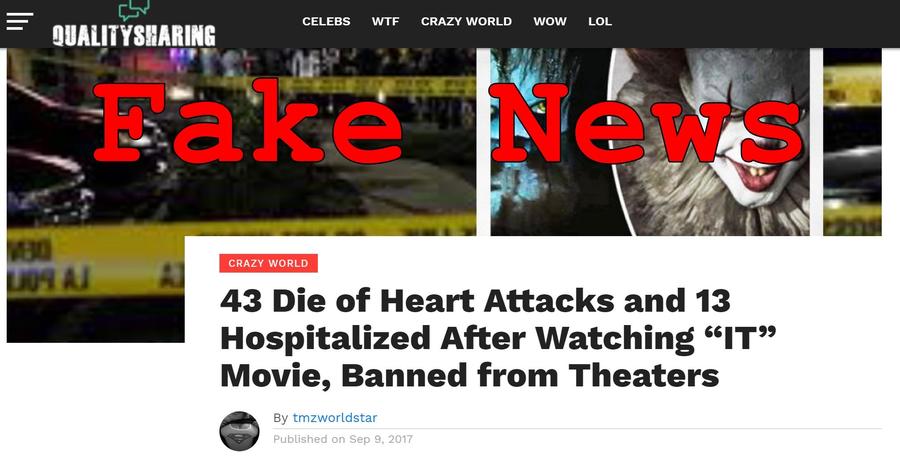 Qualitysharing.com is a known fake news website that makes up news stories about spectacular events and dumb criminals. It hails from the same stable as similar fake news sites celebtricity.com and tmzworldstar.com (and many others).
The site also sports a disclaimer at the bottom of the page:
Qualitysharing.com is the most notorious fauxtire & satire entertainment website in the world. If it's trending on social media you'll find it here!
So don't be fooled by the scary fake news website and go see "It"...