A website named American Prides recycled an old fake news article (archived here) titled 'Miley Cyrus: "Today I Leave America And Never Come Back, In 10 Days I Will Be British Citizen"'. It opened:
Miley Cyrus and numerous other American celebrities threatened to move out of the country to avoid living under newly-elected President Trump. As the Mirror reports, other famous female faces who can't stand the thought of a reality show star running the free world include Amy Schumer, Cher, and Lena Dunham.

Schumer said she would move to Spain if Trump won the presidency, while Cher proclaimed that she would move even farther away from America by catching a flight to Jupiter. Lena Dunham and Neve Campbell decided they would stay a little closer to Hollywood by heading to Canada, and Miley Cyrus didn't specify where she would go. "We're all just f**king jam between his rich a*s toes!" Cyrus wrote of Trump in a March 2 Instagram post. "Honestly f**k this s**t I am moving if this is my president! I don't say things I don't mean!)."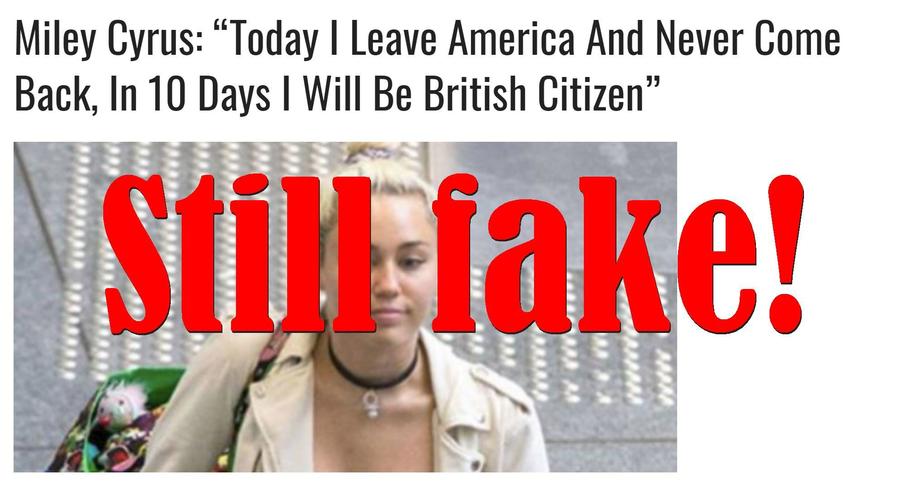 The funny thing is that on September 7th 2017 the exact same article appeared on 'US World Now'. And on March 5th 2017 it appeared on 'Red Rock Daily News'. Either those ten days take a really long time or you really shouldn't trust breaking entertainment news from websites registered just five months ago in Kosovo:
Domain Name: AMERICANPRIDES.COM
Registrar WHOIS Server: whois.godaddy.com
Registrar URL: http://www.godaddy.com
Update Date: 2017-06-04T23:02:09Z
Creation Date: 2017-06-04T23:02:08Z
Registry Registrant ID:
Registrant Name: Bunjamin Grozda
Registrant Organization:
Registrant Street: Rr Shaban Shala
Registrant City: Prishtine
Registrant State/Province: Kosovo
Registrant Postal Code: 10000
Registrant Country: KV