In the course of investigating a recent fake news story we stumbled onto a tweet from last summer in which a female alt-right media figure published sexual harrasment allegations against a former boss who runs several big liberal blogs and Facebook pages.
Readers of this site know we debunk a lot of satirical stories from a website named "The Resistance: The Last Line of Defense". Usually we start out by mentioning the title of the article (for example: "BREAKING: Anthony Weiner Banned From Facebook After Sending Tomi Lahren D*ck Pics"), followed by a few quoted paragraphs, like so:
Why Facebook would allow Democrat sexual predator Anthony Weiner to still use the platform? Weiner, who was recently released early from prison for good behavior after he was convicted of sending photographs of his probably infected micro-penis to a 15-year-old girl, rejoined the social media giant on Tuesday and by Friday had already gotten himself in trouble again when he messaged conservative pundit Tomi Lahren.
We would then typically follow up by doing a reverse Google image search on the main picture used in the article to prove it was unrelated, call out a few inconsistencies in the story (such as the fact that Weiner is still incarcerated and not scheduled for release until 2019, look it up here) and end by pointing out the satire disclaimer at the bottom of the page.
sat·ire ~ˈsaˌtī(ə)r
noun
the use of humor, irony, exaggeration, OR ridicule to expose and criticize people's stupidity or vices, particularly in the context of contemporary politics and other topical issues.
If you disagree with the definition of satire or have decided it is synonymous with "comedy," you should really just move along.
After that we would maybe add a few words about the publisher behind the site and the network it is part of and move on to the next story.
But this time we did a little more digging since the screenshots looked a bit weird:
The font and background in the title bar looked totally off. A reverse image search didn't immediately turn up anything so we did a little searching for the phrases in the screenshots. That brought us here:
"I thought about us doing 69"

The fuck nigga https://t.co/5dFNrU1TAb

-- HANDSOME PERSIAN (@Handsomepersian) July 25, 2017
Which led to this:
July 25, 2017
We tried archiving the tweet at archive.is but it seems like somebody beat us to it. This revealed the original tweet it was replying to: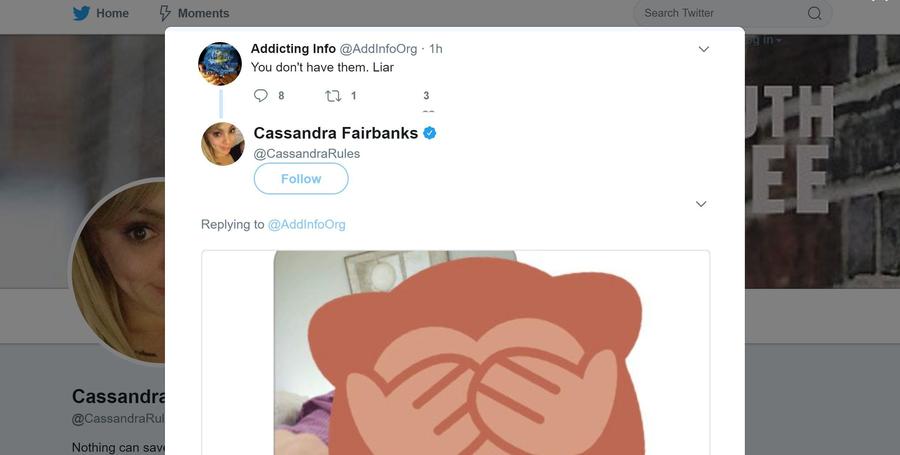 Here's where it gets interesting. Nowadays Cassandra Fairbanks writes at Big League Politics (a very right-leaning website), where her bio says:
Cassandra Fairbanks is a senior reporter at Big League Politics and a DC-based writer and populist political commentator who has been published in a range of outlets including Sputnik News, Teen Vogue, and the International Business Times.
But she used to write at Addicting Info until the end of 2015, a very liberal-leaning site. Her switch from the left to the right was noteworthy enough for the BBC to publish a story about it.
According to research by Buzzfeed Addicting Info is run by two men in Illinois: Matthew Hanson and Daniel Gouldman. And Gouldman was revealed by GotNews to be behind the byline "Icarus Verum" used on the site. Which is interesting since a variation on that name seems to be used in the original screenshots posted by Fairbanks: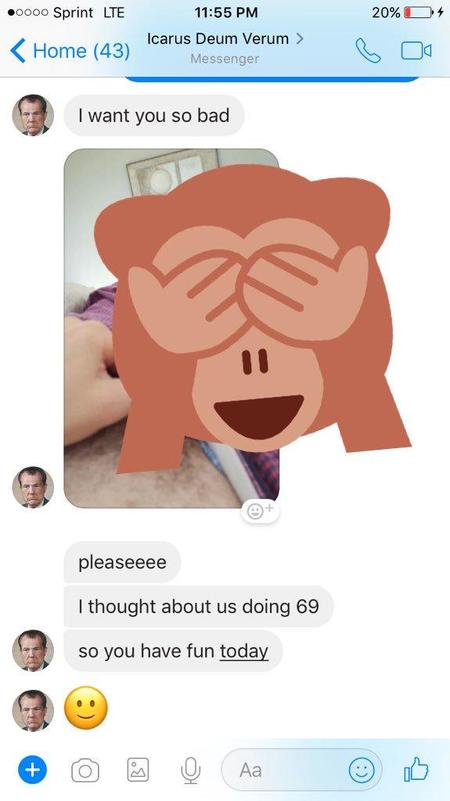 It looks like the twitter accounts of Fairbanks and Addicting Info (@CassandraRules and @AddInfoOrg) had been arguing on July 25th 2017 about the reason for her departure, when Fairbanks claimed:
I quit because Daniel couldn't get over me being romantically interested in someone that wasn't him. Actually. https://t.co/53LChKOcQi

-- Cassandra Fairbanks (@CassandraRules) July 25, 2017
To which the person behind the Addicting Info account replied:
Prove that whole statement. With evidence. I'll wait.

-- Addicting Info (@AddInfoOrg) July 25, 2017
Later the account mentions 'my business partner', wich seems to indicate Matthew Hanson is the person speaking:
@CassandraRules looks live you've been silenced on my claims my business partner sexually harassed you. More fake news from a Russian plant.

-- Addicting Info (@AddInfoOrg) July 25, 2017
That seems to be confirmed here:
Daniel said you're drunk in Disney. I would stop before I have to open more cans of worms.

-- Cassandra Fairbanks (@CassandraRules) July 25, 2017
Daniel says you're lying. Care to prove him wrong? I SERIOUSLY doubt you can.

-- Addicting Info (@AddInfoOrg) July 25, 2017
To which Fairbanks comes back with this screenshot:
Oh re: drunk pic.twitter.com/x1N2P31y2I

-- Cassandra Fairbanks (@CassandraRules) July 25, 2017
That thread is archived here, in case it goes down. There's more archived stuff too.
On July 26th 2017 Fairbanks seems to confirm it is Hanson behind the other twitter handle:
https://t.co/NsPJxoPmsn & https://t.co/MJzu4Ljqzn, have tons more but Matt finally realized I wasn't fucking around & stopped tweeting at me

-- Cassandra Fairbanks (@CassandraRules) July 26, 2017
So, what do you think? Did Daniel Gouldman of Addicting Info send a dick pick to Cassandra Fairbanks while he was her boss? Or are the screenshots fake? The accusations date back from this summer and her tweets are still visible. And we haven't found any reports about lawsuits being filed. Another case of #MeToo? Or just revenge porn being posted out of spite?
In any case, rest assured Anthony Weiner is still in jail and not sending dick pics to Tomi Lahren.