Recently a fake news website named abcnews-us.com which imitated the real ABC News posted a flurry of fake news stories:
All these stories were hoaxes and some of them were copied from other sites.
Reader Alex Kaplan notified us via Twitter that the site now appears to be down:
It appears that the ABC imposter website has been taken down.

-- Alex Kaplan (@AlKapDC) December 8, 2017
Manic News already ran a little investigation into the website and found:
The WhoIs record from RegistryDB.com indicates the domain was registered by "Scott Lee," using the e-mail address [email protected]. The About page for abcnews-us.com is simply a copy-and-paste from a different fake news site called the Jackson Telegraph.
By looking at some data collected by our Trendolizer engine we were able to confirm the site is indeed also connected to the (now defunct) fake news site cnn-internationaledition.com which we reported on earlier and so it is probably also related to the network of fake news sites that suddenly went offline about a month ago.
More importantly we also found a link to a site named southernmirror.com with which it shared a Google Analytics accound and an IP address. That site also went down. According to cached pages it carried the same about page as the Jackson Telegraph and the site seems to have been engaging in the same pattern of repeating identical fake stories with ages and locations changed: example one, example two.
We are not sure what caused the sites to go down. It appears the domain names are still working and still point to the server at IP 109.199.98.82 but once there visitors are greeted with a 404 not found error message:
Not Found

The requested URL / was not found on this server.

Additionally, a 404 Not Found error was encountered while trying to use an ErrorDocument to handle the request.

---

Apache/2.4.27 (Unix) mod_hive/6.6 OpenSSL/1.0.1e-fips mod_fastcgi/2.4.6 Server at southernmirror.com Port 80
When visiting the IP address directly visitors are now greeted by following error page from hosting provider SiteGround: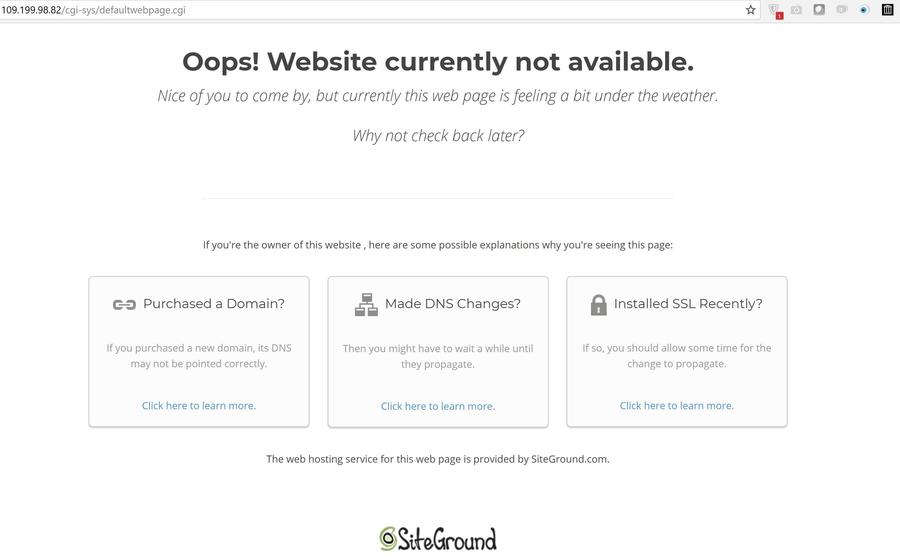 The fact that both sites went down simultaneously leads us to suspect the hosting account may have been suspended by SiteGround based on following rule in their Acceptable Use Policy:
You agree that you will not use SiteGround services to host any website, other content, links or advertisements of websites that:
infringe any copyright, trademark, patent, trade secret, or other proprietary rights of any third party information;
and
We reserve the right to terminate any hosting account that has been suspended for violation of the AUP or the TOS. Backup copies will not be available for terminated accounts.
Or it could just be that the owner of the sites decided to delete them.
In any case, we will be following up on this story to see if the sites pop up again in a different location.