The recently launched fake/satire website Ladies of Liberty posted an article titled "UPDATE: 82-Year-Old Who Killed A Muslim In Self-Defense Gets The Death Penalty" which opened:
82-year-old William DeLisle of Marina Del Ray, California, has been sentenced to death for defending himself against a life-threatening situation. In October of 2015, DeLisle was walking home from the local senior center when he was ambushed by a pair of young Muslims.

The men, Abdi Nadjeer Hallalla and Mustif Salabu, were already wanted for a crime spree that spanned nearly four years with dozens of victims. They preyed on older Americans, often grabbing them off the street to beat and rob them. Until they met DeLisle.

Now, Hallalla is in a wheelchair breathing through a tube and Salabu is dead. DeLisle, who stormed the beach at Normandy as a young man, responded to the young men like any good Marine would. He pulled a .22 from his ankle holster -- which is "illegal" in California -- and put both men down in seconds.
The image is actually Marshall Dion (a man who might actually be 82 now) who was convicted to ten years in prison in 2016 when he was 80 years old for running a massive pot operation according to the NY Daily News.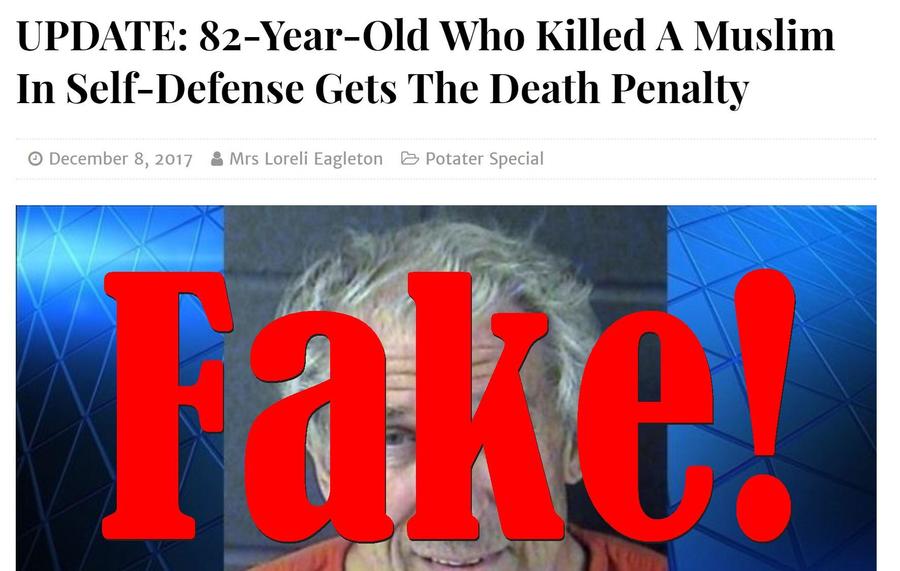 The rest of the story is totally made up and no references to the supposed victims or the perpetrator of the "crime" can be found on any reputable news website. The only site who copied the news (minus the disclaimer at the bottom) is "defense-usa.site" which registered its domain name only a week or two ago, clearly the mark of a reputable and trustworthy news source. Yet somehow that site managed to get at least three times as many likes/shares out of it.
At least Ladies of Liberty carries a satire disclaimer at the bottom of the page which reads:
PAY ATTENTION:

sat·ire ~ˈsaˌtī(ə)r

noun
the use of humor, irony, exaggeration, OR ridicule to expose and criticize people's stupidity or vices, particularly in the context of contemporary politics and other topical issues.
If you disagree with the definition of satire or have decided it is synonymous with "comedy," you should really just move along.
The owner and main writer of the site is self-professed liberal troll Christopher Blair, a man from Maine who has made it his full time job to troll gullible conservatives and Trump supporters into liking and sharing his articles. He runs several other websites such as asamericanasapplepie.org, ourlandofthefree.com and freedumjunkshun.com. Sometimes he is also known under his nickname "Busta Troll". He has at least one accomplice who writes under the pen names "Freedom", "Captain Jellypants", "Butch Mannington" or "Captain Buck Atlantis".
Articles from Blair's sites frequently get copied by "real" fake news sites who often omit the satire disclaimer and any other hints the stories are fake. Blair has tried to get these sites shut down in the past but new ones keep cropping up.
If you see one of his stories on a site that does not contain a satire disclaimer, assume it is fake news. If you do see the satire disclaimer it is of course also fake news.