There is no truth to the story that 22 Clinton foundation employees were arrested on the first day after a new investigation was started. The article originated on satirical site Ladies of Liberty where a story (archived here) was published with the title "22 Clinton Foundation Employees Arrested On First Day Of New Investigation". Several fake news sites subsequently copied the article making it go viral. The original story opened:
The first day of the investigation into the Clinton Foundation has already netted 22 criminals the FBI was already looking at. The charges range from drug trafficking to money laundering to perjury and there will be no leniency, according to US Attorney Jeff Sessions.
The most prominent arrest was Frank Murphy, who ran the Clinton "security" company, meaning he facilitated all of the illegal transactions and was witness to all of it. If the FBI can crack him, the Clintons would be all over. Cracking him, however, won't be easy.
We were unable to find any trace of a "Frank Murphy" related to a Clinton security company and the image that accompanied the story is actually from a 2016 drug bust story from Hungary.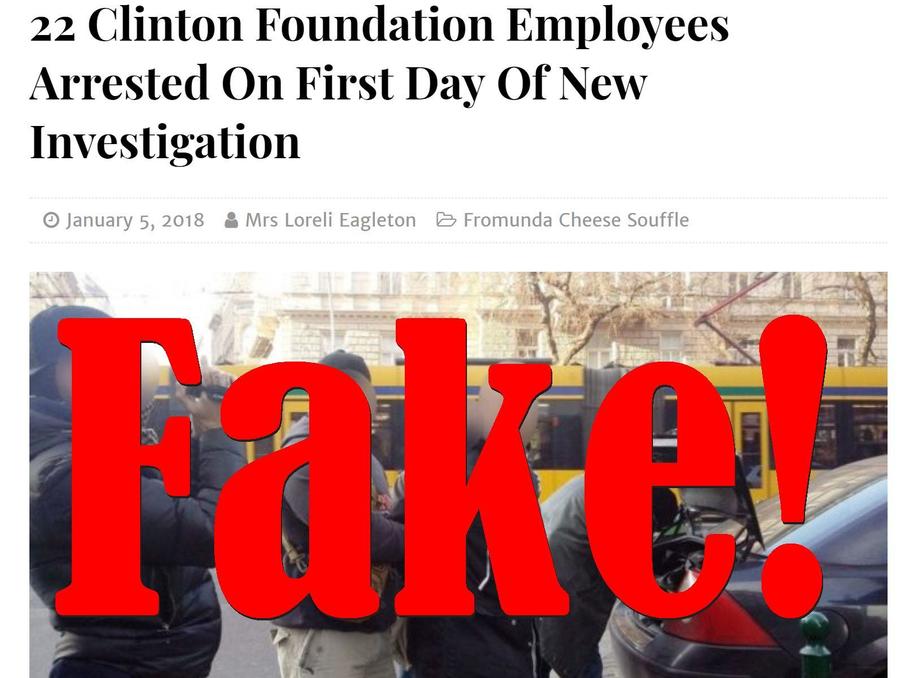 The site Ladies of Liberty comes with a clear satire disclaimer at the bottom of each article:
sat·ire ~ˈsaˌtī(ə)r
noun
the use of humor, irony, exaggeration, OR ridicule to expose and criticize people's stupidity or vices, particularly in the context of contemporary politics and other topical issues.
If you disagree with the definition of satire or have decided it is synonymous with "comedy," you should really just move along.
The owner and main writer of the site is self-professed liberal troll Christopher Blair, a man from Maine who has made it his full time job to troll gullible conservatives and Trump supporters into liking and sharing his articles. He runs several other websites such as asamericanasapplepie.org, ourlandofthefree.com and freedumjunkshun.com. Sometimes he is also known under his nickname "Busta Troll". He has at least one accomplice who writes under the pen names "Freedom", "Captain Jellypants", "Butch Mannington" or "Captain Buck Atlantis".
Articles from Blair's sites frequently get copied by "real" fake news sites who often omit the satire disclaimer and any other hints the stories are fake. Blair has tried to get these sites shut down in the past but new ones keep cropping up and he keeps knocking them down.
If you see one of his stories on a site that does not contain a satire disclaimer, assume it is fake news. If you do see the satire disclaimer it is of course also fake news.