An article claiming the worldwide suicide rate dropped 37% after controversial YouTube star Logan Paul posted a video of himself entering Japan's "suicide forrest" and filming a dead body is fake news. The story (archived here) was originally posted by 'fauxtire' site huzlers.com and was titled "World Suicide Rate Drops 37% Following Logan Paul's Youtube Video". It opened:
WORLDWIDE - Days After Youtube star Logan Paul uploaded a video of him and friends laughing at a japanese suicide victim's corpse, It is being reported that worldwide suicides have actually dropped by 37% since the video was uploaded a few days ago.

After posting the video, the internet immediately reacted in rage, prompting Logan Paul to delete the video, however the damage was done. Hundreds of thousands of people turned to social media to show how they felt. Even celebrities expressed their disgust for Logan Paul and his video. However, WHO (Worldwide Health Organization) has reported that they've noticed a major drop in global suicides since Logan uploaded the video, up to 37%, which is a huge decrease, very close to half.
The part about Logan Paul uploading a video showing a possible suicide victim and the internet reacting with outrage is true, as can be seen in this ABC news report:
But the part about the suicide rates dropping 37% is not true. The last year the WHO lists suicide statistics for on its website is 2015, well before the Logan Paul video, as can be seen here:
There were an estimated 788 000 suicide deaths worldwide in 2015. This indicates an annual global age-standardized suicide rate of 10.7 per 100 000 population
The entire WHO site makes no mention of "Logan Paul" at all.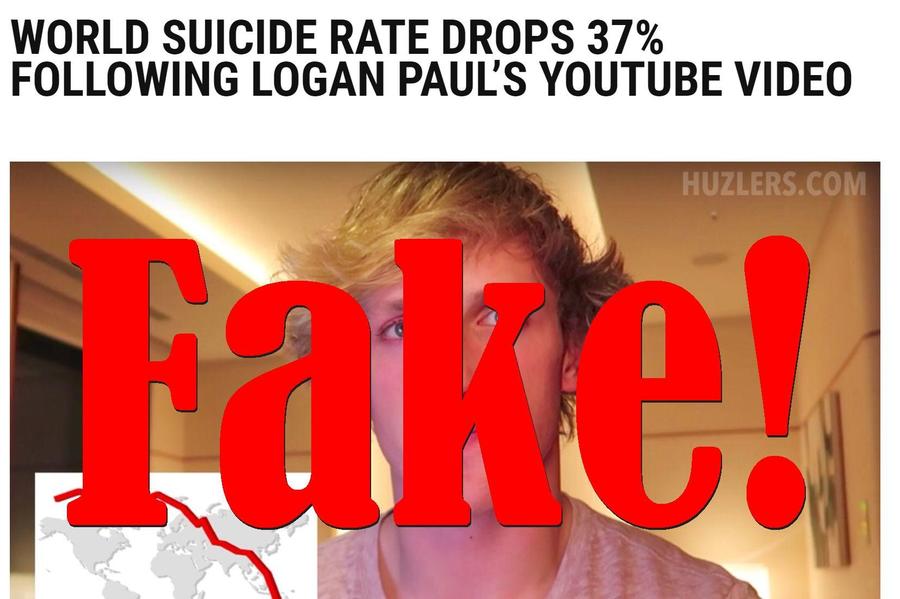 Huzlers styles itself as a "fauxtire" website and carries a disclaimer at the bottom of each page:
Huzlers.com is the most infamous fauxtire & satire entertainment website in the world. If it's trending on social media you'll find it here!
According to Splinter News the site is run by Pablo Reyes and David Martinez and according to Buzzfeed Reyes is involved with several other fake news websites. They tend to shy away from political stories, opting instead to write for a more "urban" audience, with stories about rappers, criminals and celebrities.