STORY UPDATED: check for updates below.
A Twitter account purporting to be owned by Mega Millions winner Shane Missler put out a tweet saying the first 50,000 followers to retweet and like it would get $5,000. Missler won the $451 million jackpot on january 5th 2018 but opted for a lump sum payment of $281.2 million instead of payment in installments.
Unfortunately the tweet (archived here) is bogus:
Hey guys! I am the lottery winner of $451 Million. With this incredible opportunity I am giving back $5,000 to the first 50k followers that retweet and like this post. This is to much money and I love helping people!🙏🏻 pic.twitter.com/pHvqB5Umgp

-- Shane Missler (@Shane_MissIer) 16 januari 2018
The twitter account @Shane_Missler was only registered on January 15th 2018 while Shane's real account @TheShaneMissler was registered in February 2016. He already used it to put out a warning about fake accounts:
Again, thank you all for tuning in. This journey has only just begun, mark my words. Unfortunately many fake accounts have already circulated. My only active and real accounts are Instagram and Twitter both @TheShaneMissler 🙏🏻 💯 #GratefulBeyondWords

-- Shane Missler (@TheShaneMissler) January 13, 2018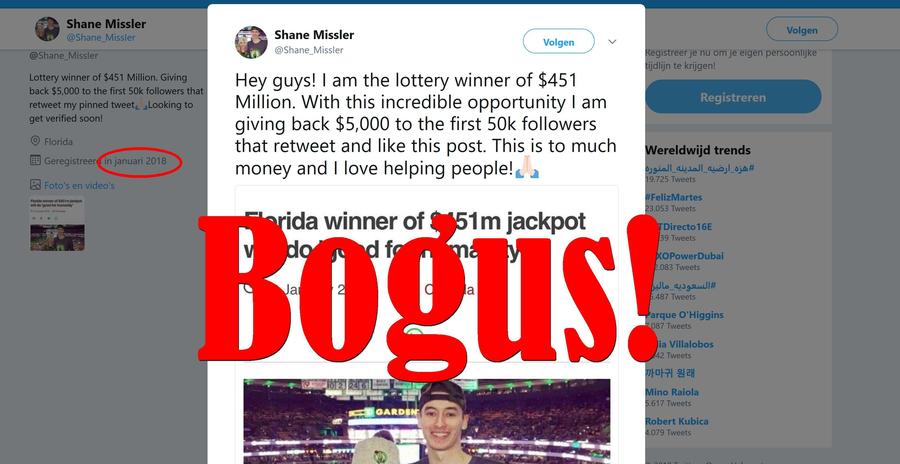 That didn't seem to stop many people from taking a chance anyway: at the moment of writing the fake tweet was approaching 10,000 retweets. Weirdly the number of likes was only at 7,700 so at least 2,300 people were apparently not even smart enough to follow the full instructions of a hoax tweet.