Several media outlets are reporting about a photo (archived here) making the rounds on social media apparently threatening a new school shooting in Fresno. The image shows an AR-15 assault rifle on a piece of carpet along with socked feet and the caption "Edison and SSH don't come to school". This appears to be a threat to Edison and Sunnyside high schools in Fresno, California.
The Fresno Bee is reporting the image was likely spread through Snapchat, as the type of caption used is typical of that platform:
Fresno police are investigating a threat to Edison and Sunnyside high schools after someone posted a picture of a gun to social media on Thursday and warned students not to attend class on Friday. The picture shows what appears to be an assault rifle on carpet, along with the words, "Edison and SSH don't come to school."
Lead Stories has been able to track down the probable origin of the photo, a classified ad on the website Armslist from a user who signed up in 2013 and who claims to be from North Carolina (archived here).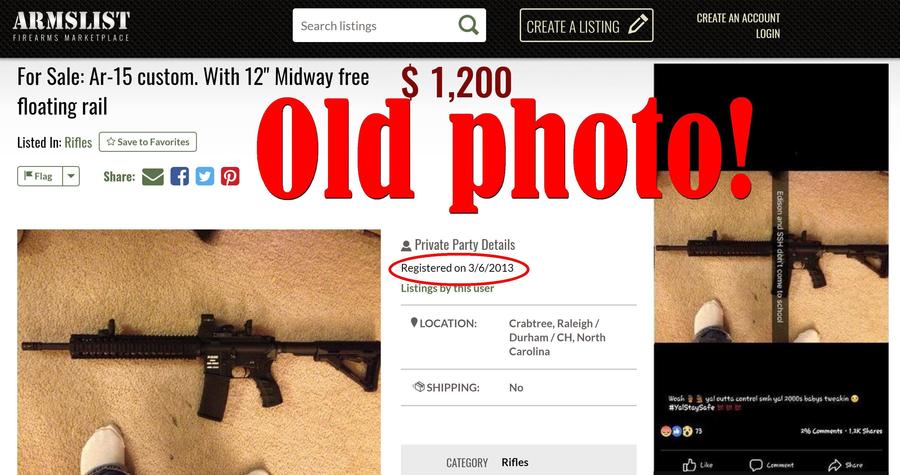 Note: this does not mean the threat is fake, it could still be real or it could just be a sick prank. Authorities are investigating and as the Fresno Bee reported:
A news release sent Thursday night by Fresno Unified stated the district is working closely with Fresno police to investigate the posting. "As a precaution the police chief will deploy additional officers in and around our schools tomorrow morning. Our schools will remain open as normal. We have communicated to our families and staff and will continue to update everyone as information is available," the notice said.