On February 15th 2018 an image was posted on the subforum "The Donald" on Reddit (archived here) that was titled "SNOPES.com's only clients are Soros and the DNC". The text in the image read:
BUSTED

Snopes.com

100% FAKE FACT-CHECKING SITE

In 2009 FactCheck.org exposed Snopes.com as an extremely liberal propaganda site with an agenda to discredit anything that appears to be conservative. Snopes has no employees and its owner has zero investigative research experience and Facebook has hired him to fact check the news on FB. And Soros and the DNC have just been exposed as Snopes only client. What does that tell you!

George Soros and the DNC

PROPAGANDA SITE
There are several things in that image that are simply not true. To start with, the photos at the top show meetings between George Soros and Gordon Bajnai and George Soros and Andrew Baron. The first one used to be Prime Minister of Hungary and the other one created RocketBoom.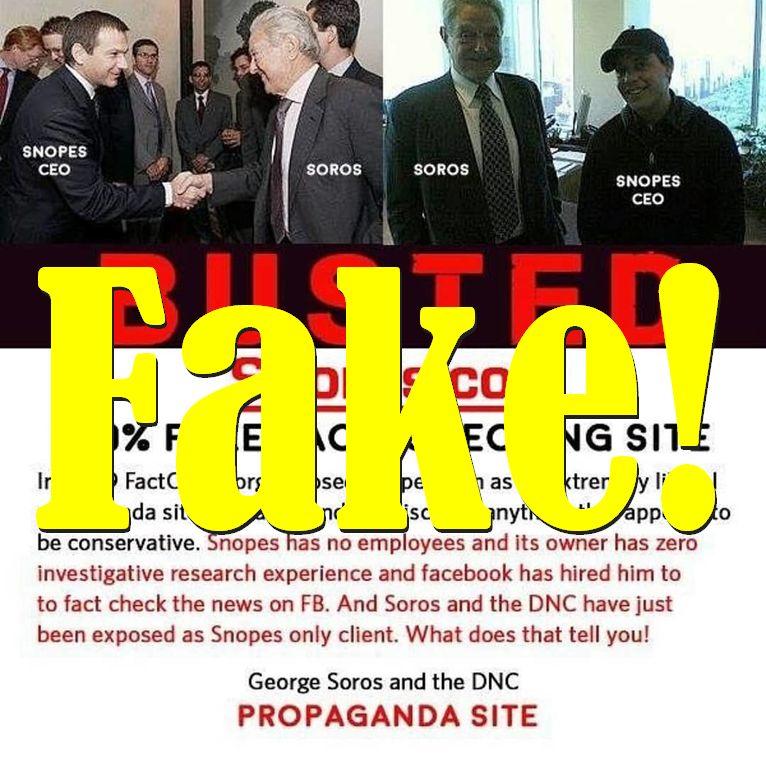 The closest thing Snopes.com has to a CEO is co-founder and owner David Mikkelson who looks nothing like the men in the pictures:
David Mikkelson founded the site now known as snopes.com back in 1994 as a creative outgrowth of his wide-ranging interests in a variety of ...
On the Snopes website there is no mention of clients and their ownership and revenue page specifically mentions:
Snopes.com primarily derives its revenue from advertising displayed on the site: we have no active sponsors, donors, investors, or other regular sources of income. Advertisers have no contact with the site's editorial staff and do not in any way influence the content we publish. Any changes to Snopes.com revenue and monetization strategy will be reflected on this page.
It's staff page lists about a dozen people in various roles. I have personally met several of them so I can confirm firsthand they exist.
Factcheck.org did do a piece about Snopes in 2009 but its conclusion was the exact opposite of what the image claims:
Q: Is Snopes.com run by "very Democratic" proprietors? Did they lie to discredit a State Farm insurance agent who attacked Obama?

A: A chain e-mail that "exposed" Snopes contains falsehoods. And in fact, the site is run by someone who has no political party affiliation and his non-voting Canadian wife. A State Farm spokeswoman confirms what they reported about the Obama-baiting agent.
Snopes did announce they were part of Facebook's initative to work with fact checking websites to combat fake news. If you squint at that enough it could vaguely be construed to mean they "hired" them but clearly not in the sense that Mikkelson is an actual employee of Facebook.
So pretty much everything in the image is a lie. What does that tell you?