Is Australian comic actor Jim Jefferies dead after being killed in a car crash in Malta? Rumors that Jefferies passed away are nothing more than a death hoax, he did not really die.
Origin of the hoax is an article on a fake "Malta Today" website published on March 15th 2018 under the headline "BREAKING: Australian comic actor Jim Jefferies killed in Malta after car crash" (archived here) which opened:
Australian stand-up comedian Geoff James Nugent, known professionally as Jim Jefferies has lost his life after a car crash on Thursday in Valletta.
According to the police, Jim Jefferies, 41, who was in Malta to perform at a concert was a passenger in a friend's car when the driver(his friend) lost control of the Peugeot 307 he was driving and crashed into a wall.
Members of the Civil Protection Department intervened to extract them from the car before they were taken to Mater Dei Hospital for treatment. Sadly, the Australian well-known comedian and political commentator died shortly after he was put on life support.
According to the police, his Maltese friend John Agius, 32, sustained various degree of injuries and he's in a life threatening condition, undergoing treatment at the Intensive Care Unit.
The real Malta Today website is located at www.maltatoday.com.mt, not at "maltatodays.com" like the fake website. The site was only registered three days ago:
DOMAIN INFORMATION
Domain:maltatodays.com
Registrar:Wild West Domains, LLC
Registration Date:2018-03-12
That's a first clue the story is fake. A second clue is that the (very much) alive comedian Jim Jefferies has denied he is dead on Twitter:
https://t.co/2WJyV5Uuo0 I'd like to report that this isn't true, I have no gigs in Malta

-- jim jefferies (@jimjefferies) March 15, 2018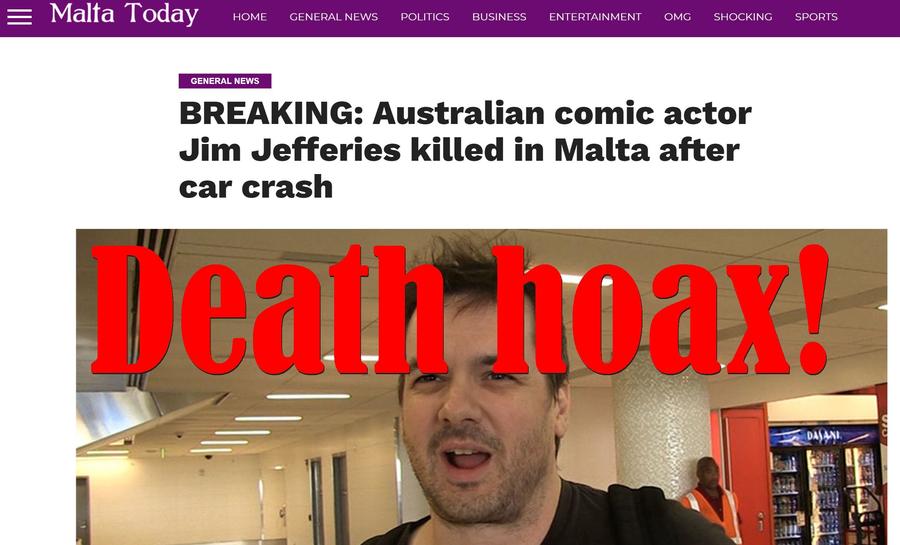 Lead Stories found an identifier for the MGID advertising network in the code of the site, and that same identifier is also present on these other sites:
abcnewgo.com
florida-times.com
houstonchronicle-tv.com
nydailynews-tv.com
This marks it out as being part of a large network of fake news websites that regularily publish death hoaxes. Only a few days ago they declared ex-president Daniel Arap Moi of Kenya dead.
We here at Lead Stories will keep monitoring this network with great interest!