Did truckloads full of illegal immigrants cast fake votes in the Pennsylvania election for the 18th Congressional District? And did this invalidate Conor Lamb's narrow win over Rick Saccone? We won't know 100% certain who won until after all questions about potential recounts have been settled but one thing we do know: the story about the trucks full of illegals is a hoax and is definitely not true.
It was published originally on March 15th 2018 on satirical website Daily World Update under the title "BREAKING: Trucks Full Of Illegals Casted Fake Votes In Pennsylvania Race" (archived here). The story opened:
The race for Pennsylvania's 18th district was a close one, with Conor Lamb being declared the victor before write-in and absentee ballots had even been counted. The fact that Lamb "won" even in deep red areas that support President Trump overwhelmingly, is suspicious on its own -- but reports of voter fraud make things even more peculiar (especially the trucks full of illegals).

Not only did Fox News report that verified instances of voter fraud are already popping up in the state, but Breitbart uncovered another very serious problem:

Locals captured photographs of what appears to be multiple trucks full of illegals at not one, not two, not even three, but six polling locations across Pennsylvania. All of the locations were in areas Trump dominated in the 2016 election.
At least one of the photographs allegedly taken by "locals" was in fact taken in Mexico in 2004.
The links to Fox and Breitbart in the story just went to the homepage of these sites and we were unable to find any actual news reports from these organisations about the alleged fraud by trucks full of illegals.
The story echoes two earlier stories coming from the same network of satirical websites: one about a "busload of blacks" and another about a "van full of illegals" improperly voting. The next story will undoubtedly feature a "trainload of illegals" or maybe a "passenger plane full of illegals"...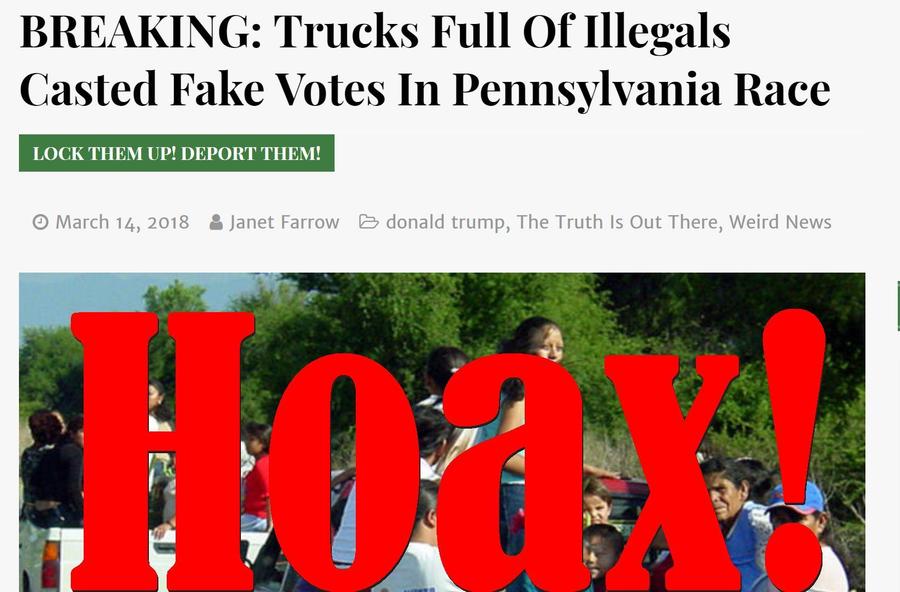 The site Daily World Update comes with a clear satire disclaimer at the bottom of each article:
sat·ire ~ˈsaˌtī(ə)r
noun
the use of humor, irony, exaggeration, OR ridicule to expose and criticize people's stupidity or vices, particularly in the context of contemporary politics and other topical issues.
If you disagree with the definition of satire or have decided it is synonymous with "comedy," you should really just move along.
The owner and main writer of the site is self-professed liberal troll Christopher Blair, a man from Maine who has made it his full time job to troll gullible conservatives and Trump supporters into liking and sharing his articles. He runs several other websites such as ladiesofliberty.net, shareotonin.com and dailyworldupdate.com. Sometimes he is also known under his nickname "Busta Troll". He has at least one accomplice who writes under the pen names "Freedom", "Captain Jellypants", "Butch Mannington" or "Captain Buck Atlantis".
Articles from Blair's sites frequently get copied by "real" fake news sites who often omit the satire disclaimer and any other hints the stories are fake. Blair has tried to get these sites shut down in the past but new ones keep cropping up and he keeps knocking them down.
If you see one of his stories on a site that does not contain a satire disclaimer, assume it is fake news. If you do see the satire disclaimer it is of course also fake news.