Rumors that Pamela Anderson died aged 50 are not true. Pamela did not die and the story about her death is just another death hoax from a network of fake news sites that have been publishing one celebrity death hoax after another about celebs passing away for various reasons.
The story originated on abcnews-us.com (not abcnews.go.com, the real ABCNews website) on March 15th 2018 in an article titled "Pamela Anderson: Famous Playboy Model and Baywatch Star Dies Aged 50" (archived here) which opened:
World famous Playboy model and Baywatch starlet Pamela Anderson has died at the age of 50.

At 8:00 am on March 12, the Los Angeles Fire Department responded to "a medical request" at the Los Angeles home of Anderson. She had apparently collapsed in a bathroom. Firefighters attended to Anderson on the scene before transporting her to Cedars-Sinai Medical Center, where she was admitted with complications attributed to Hepatitis C. According to Chief Coroner Jonathan Lucas M.D., during the course of her treatment Anderson developed pneumonia and died at 10:04 this morning after going into cardiac arrest.
The rest of the article seems to be mostly copy-pasted from her Wikipedia entry. Despite the hoax being at least 20 hours old by now, Anderson's twitter account has made no mention of her passing and has been tweeting about President Trump only two hours ago:
Trump's Pick to Head C.I.A. Played Role in Torture Program https://t.co/S3IrS9zcFR

-- Pamela Anderson (@pamfoundation) March 15, 2018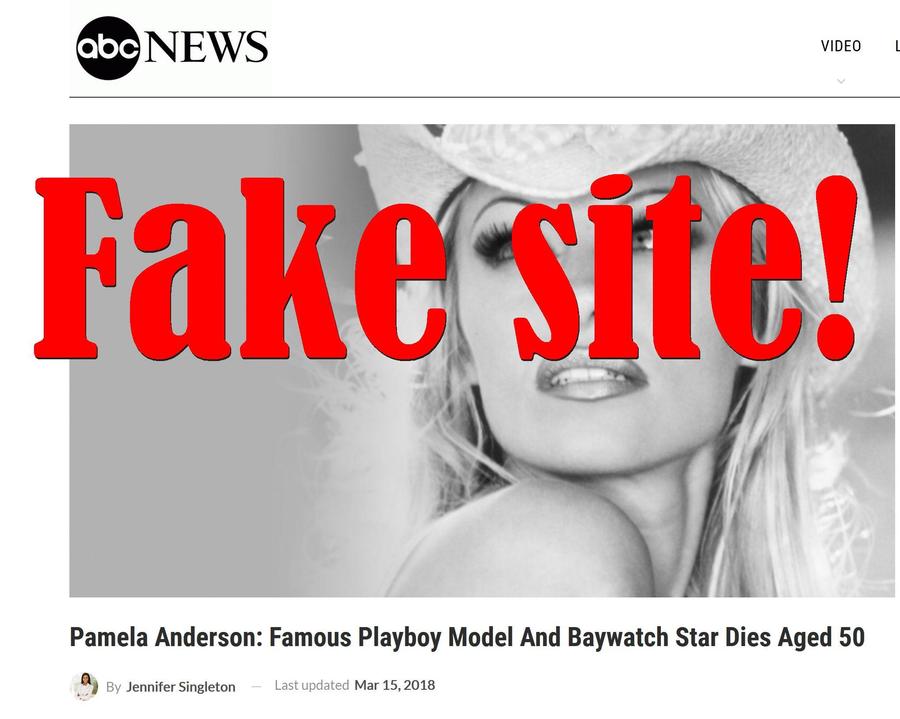 In addition the site abcnews-us.com is part of a known network of fake news websites that we have reported on earlier and nothing they write should be taken at face value. Only a few days ago the same site ran a copy of an old fake story about a funeral employee being accidentally cremated which was actually taken from an old article on a satire website.
Don't be fooled!