A fake Twitter account seemingly belonging to Dutch Foreign Affairs Minister Stef Blok announced the death of Mikhail Gorbachev (aka Michael Gorbatsjov):
Dutch Ambassador to Moscow phones me now announcing the death of former Soviet leader Mikhail Sergeevich Gorbachev.

-- Stef Blok (@SBlokNL) March 7, 2018
We archived the tweet here. Blok does not have a Twitter account but he really is the Dutch Minister for Foreign Affairs since today.
Another tweet a few hours later admitted the whole thing was a hoax:
This account is hoax created by Italian journalist Tommasso Debenedetti.

-- Stef Blok (@SBlokNL) March 7, 2018
We archived that one here.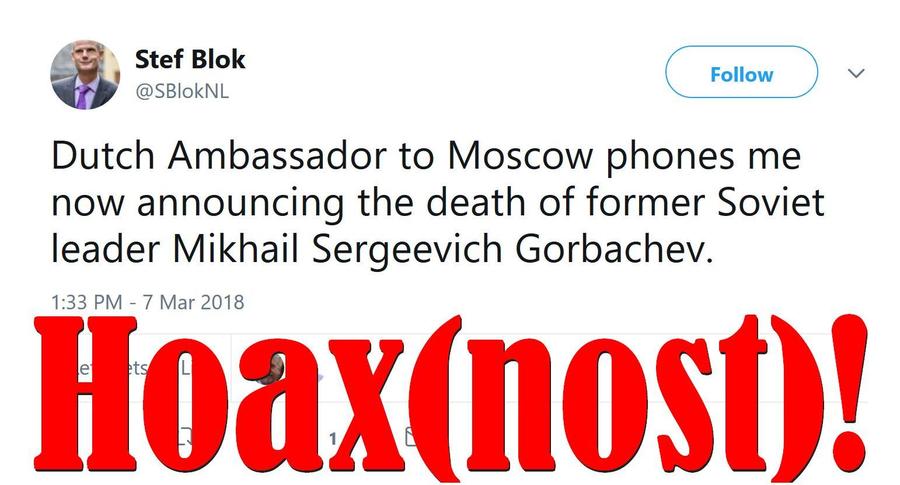 Only two weeks ago Debenedetti pulled a similar hoax claiming the former Pope had died. According to Wikipedia he is famous for regularily setting up fake Twitter accounts for famous people who don't have one yet and then running a death hoax through them.
Fake news
Since 2011, De Benedetti has created fake Twitter accounts of famous world personalities, spreading fake news.[1] On 2012, a hoax announcing the death of Syrian president Assad created a global rise in the price of oil.[2] Other De Benedetti Twitter hoaxes were picked by important news sources, fooling many newspapers, including The New York Times, The Guardian, and USA Today, as well as world leaders and organizations.[3]

Response
De Benedetti explained he did it "to show how is easy to fool the press in the era of social media". Mario Vargas Llosa, in his essay Notes of the death of culture (written in 2015) quoted Debenedetti as "an hero of the civilization of the spectacle".[4]