STORY UPDATED: check for updates below.
A conspiracy website named SomeonesBones claimed on March 6th 2018 that a massive explosion happened at the largest super-collider in the world in an article titled "CERN Suffers MASSIVE Explosion" (archived here). The story opened:
Last Tuesday, an experiment gone awry killed three scientists and caused catastrophic damage to the planet's largest super-collider, known as project CERN, a nefarious coalition of politically controlled scientists eager to subvert scientific achievements in the name of furthering ominous ventures that threaten humanity.

Dr. Ravi Mutnaj, a New Delhi based physicist formerly attached to CERN, said the incident occurred when scientists tried to enhance the collider's magnetic coils by adding an additional eighteen hundred super magnets to the existing ninety-six hundred. The combined pull of the magnets, in conjunction with nine thousand filaments of magnetized cable, generate a force over 100,000 times more powerful than the gravitational pull of Earth. Dr. Mutnaj said the accident occurred as the scientists attempted to create an interdiminsial gateway--or portal--to a parallel universe. As protons fired across a seventeen-mile circular track six hundred feet beneath the ground, he said, temperatures rose to unprecedented levels, which caused a cascading system failure and a detonation that instantly obliterated a five mile stretch of the track and incinerated the trio of scientists working on the project.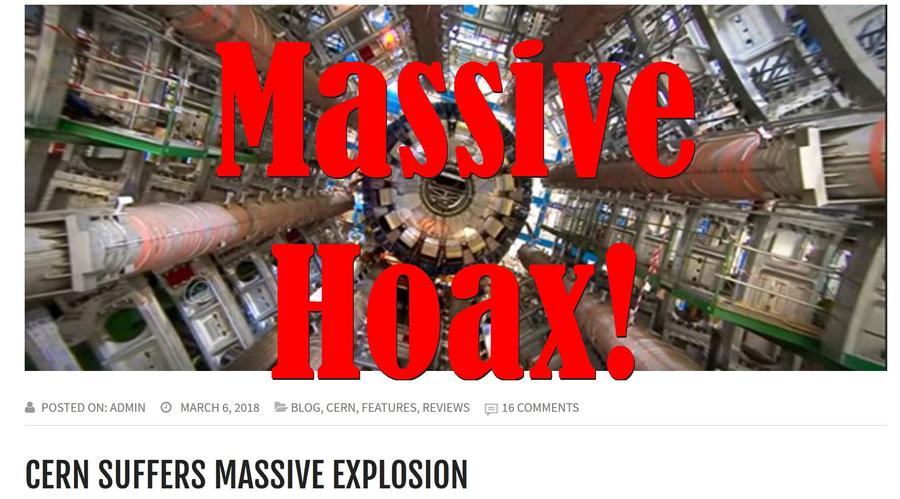 None of it is true and the events described in the story did not happen. The introduction of the article gets several basic facts wrong:
There is no "project CERN". CERN stands for "Conseil Européen pour la Recherche Nucléaire" which translates to "European Council for Nuclear Research". It does operate the largest particle collider in the world, but that is known as the Large Hadron Collider.
The Large Hadron Collider sits between 50 and 150 metres underground (about 150 to 450 feet), not 600 feet.
There is no "Dr. Ravi Mutnaj". We found no online references to this name outside copies of the SomeonesBones story. A search on Google Scholar for his name turns up nothing. Any serious scientist working at a prestigious institution like CERN would show up there.
A real scientist would never write "interdiminsial".
CERN itself has made no mention of any explosion via its press channels or Twitter account. We have reached out to their press contacts for a comment and will update this story when we receive one.
There have been no mentions of any seismic activity in Switzerland on March 6th near the location of CERN (just above Geneva/Genève) according to this map from the Swiss Seismological Service: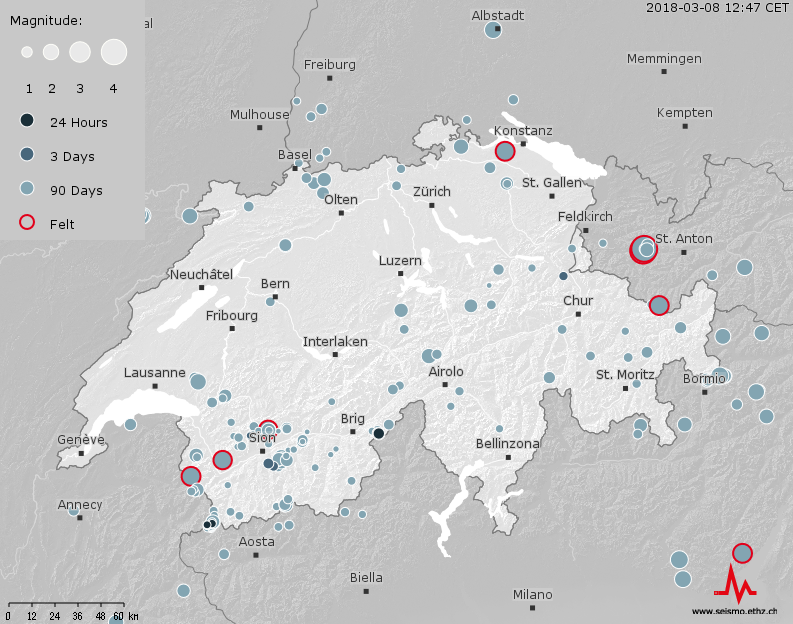 The article explains this away with following paragraph:
Asked why the mammoth explosion did not generate an earthquake detectable on the Richter scale, Dr. Mutnaj said collider is encased in an underground bunker with fifteen-foot thick concrete walls on all sides. This safety measure ensures radiation remains contained in the enclosure and that mishaps cannot be detected by the outside world.
We highly doubt a mere fifteen feet of concrete would dampen an explosion that "instantly obliterated a five mile stretch of the track".
The website SomeonesBones comes with a cleverly worded about page that tells you exactly what their goal is:
Thank you for your interest in someonesbones.com, a website primarily dedicated to exploring the Nibiru realities and exposing scientific and govermental corruption. We understand these are controversial subjects often deem "conspiracy theories" by mainstream media.. However, we also believe the government and the mainstream media lie about pretty much everything, and are solely interested in confusing the population.
So don't fall for this hoax!
Note: we already found one blog that copied the story and translated it into French. They credit it to this blog, which contains just a copy of the original English article but it doesn't credit the original with a link. Sites that copy content without mentioning their source are terrible.
2018-03-08T13:41:14Z

2018-03-08T13:41:14Z

There are several videos circulating on YouTube which claim to show the event. Twitter user Occulturalism pointed out the video is from 2014:

People are sharing this video of the "new" CERN explosion, but it's actually from 2014. https://t.co/4ZIHLAhlPn#QAnon

— [o] (@occulturalism) March 8, 2018

(Needless to say, there was no actual CERN explosion in 2014 either)