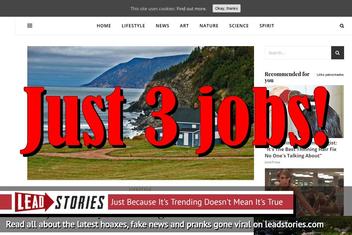 Will a small Canadian town give anyone willing to move there land and and job? Not really, the story has been wildly blown out of proportion and has gone viral several times over the years. It is not the town that is giving out land and jobs, it is a small business, and there are just three jobs available (at the time of writing).
The latest version of an article proclaiming anyone can get land and a job appeared on March 22, 2018 on a site named moon-child.net and was titled "This Small Canadian Town Will Give Land & Job To Anyone Willing To Move There" (archived here). It opened:
If you love to be outdoors surrounded by nature as far as the eye can see with fresh air to breathe and are looking for a job. Stop now and search no longer, as there as an opportunity of a lifetime in a small town called Cape Breton in Nova Scotia, Canada.

The Farmer's Daughter Country Market which is a very special part of cape Breton is hiring workers and providing an opportunity for anyone who is qualified to start a new life and a new job with incredible benefits. They're already hired all the qualified local residents that needed a job and there's no one left. So, they decided to post an ad on Facebook, a call out or all those who're interested into moving to the countryside, lead a simpler, happier life, closer to nature.
The story (and all the viral articles subsequently spawned by it) originated with an August 29, 2016 Facebook post (archived here) from The Farmer's Daughter Country Market, a small business in Whycocomagh, Nova Scotia that was looking for new employees. We've embedded the post below:
It explicitly notes foreign workers should not apply.
Please note if you are a foreign worker you cannot apply. At this time Cape Breton does not qualify for the Foreign Worker Program.
At the time of writing (in March 2018) the "Employment" section of The Farmer's Daughter Country Market website still lists three open jobs:
The following positions are currently available:

Front End

Cook

Baker
Funnily enough the endless reposting of the same viral article by many, many sites all pointing to the store's Facebook page has caused over 1,700 reviews to appear there, many of which are clearly just from people looking for a job.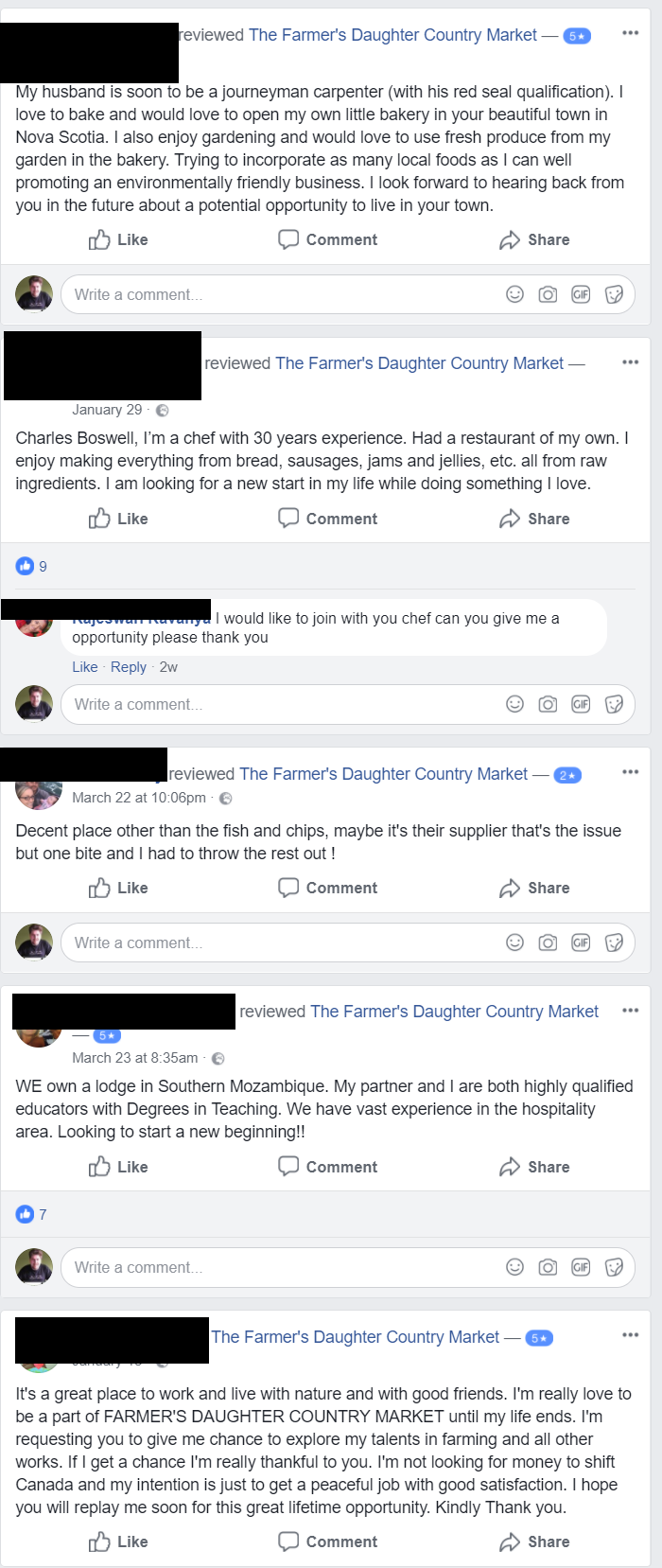 These people clearly also didn't read the post properly:
If you are interested in this unique opportunity please email your resume along with a letter about yourself to [email protected]
So if you are interested in the job, send an email, don't leave a review!
Bonus interesting fact:
The site moon-child.net shares an Adsense account ("ca-pub-6406399362135297") with tetribe.net, a site we've recently debunked some other stories from. And what do you know: they are owned by the same guy according to WHOIS registration records.
Domain:moon-child.net
Registrar:Crazy Domains FZ-LLC
Registration Date:2018-02-21
Expiration Date:2019-02-21
Updated Date:2018-02-21
Status:ok
Name Servers:ara.ns.cloudflare.com
logan.ns.cloudflare.com
REGISTRANT CONTACT
Name:LUKE O HEHIR
Street:1/37 ARGYLE AVE CHELSEA
City:VIC
State:VIC
Postal Code:3196
Country:AU
Hi Luke!