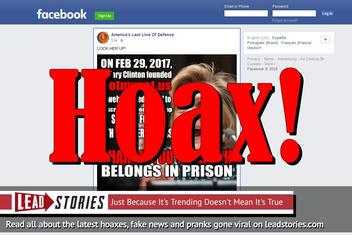 Did Hillary Clinton create the website notmypot.us to discredit President Donald Trump? No, that's not true, the image claiming that she did originated on a Facebook page that was set up to troll conservatives and Trump supporters into liking and sharing fake news so they could be mocked for it.
The meme claiming Clinton was behind the website was published on April 18, 2018 by Facebook page "America's Last Line Of Defense" (archived here) and it contained following text:
On Feb 29, 2017, Hillary Clinton founded notmypot.us a web site dedicated to discrediting Donald Trump SHE PAID FOR IT WITH TAXPAYER DOLLARS SHARE IF YOU THINK SHE BELONGS IN PRISON
The website cannot have been founded on that date because it does not exist. The year 2017 was not a leap year so February had just 28 days, making February 29, 2017 a fictional date.
The Facebook page America's Last Line of Defense has following description on it's about page:
Nothing on this page is real. It is a collection of the satirical whimsies of liberal trolls masquerading as conservatives. You have been warned.
In addition WHOIS records prove notmypot.us was set up on April 14, 2018 by Christopher Blair, the man who is also behind the Facebook page that originally posted the meme. He recently started the site along with several others:
STORY UPDATED: check for updates below. Regular readers of Lead Stories know we've been following the exploits of Christopher Blair for quite some time now.