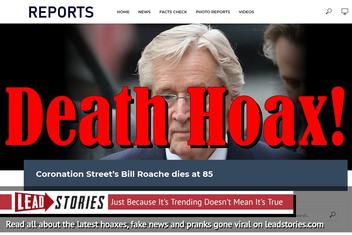 Did actor Bill Roache of Coronation Street fame die aged 85 today? No, that's not true: he became the latest victim of a network of fake sites specializing in death hoaxes and other fake news.
The latest death hoax originated from an article published on April 18, 2018 by a website using the domain name breaking-cnn.com (which is not affiliated in any way with the real CNN). The story was titled "Coronation Street's Bill Roache dies at 85" (archived here) and opened:
Coronation Street actor Bill Roache who played Ken Barlow has died at the age of 85.

Son Linus Roache said in a statement that Bill died of heart failure on the night of Wednesday.

Born in Nottinghamshire in April 1932, Bill Roache joined the British Army in 1953 and left in 1956 after reaching the rank of captain. An exploding mortar round left Bill with tinnitus.

Before joining Coronation Street, Bill landed the lead role in a televised play called Marking Time, although it wasn't broadcast until a year after his Coronation Street debut in 1960.

Bill's had two children with his first wife Anna Cropper. Eldest son Linus Roache is also an actor. Bill and Anna also had daughter Vanya, born 1967.
The rumor was quickly debunked by various British media outlets, for example:
Coronation Street star Bill Roache has been forced to confirm he's very much still with us after a bizarre Internet hoax claimed he had died. A friend of the actor, best known for playing Ken Barlow in the ITV soap, spoke to the Mirror after the swirling rumours left fans devastated.
The fake CNN site is the same one that got almost two million Facebook engagements out of a (premature) announcement of the death of former First Lady Barbara Bush earlier this week:
STORY UPDATED: check for updates below. UPDATE: Barbara Bush did now pass away on April 17, 2018 as reported by the NY Times: As the wife of the 41st president and the mother of the 43rd, George W. Bush, Mrs.
The site shares an IP addres with several other sites that are part of a network of fake news websites that all have normal looking front pages with some generic news stories taken from other websites but which frequently publish hoax articles on other parts of the site that aren't immediately obvious to visitors. These stories frequently are death hoaxes about celebrities or other well known people that have been reported as being in the hospital by mainstream news sources. Some sites we've identified as part of the network include: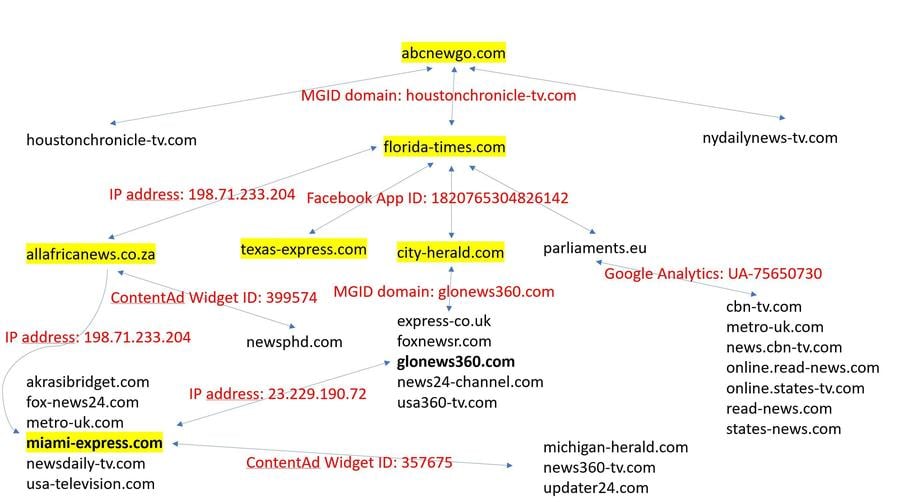 We wrote a longer exposé about that network here if you are interested in reading more about the kinds of tricks and tactics used by this network.
We wrote about breaking-cnn.com before, here are our most recent articles that mention the site: