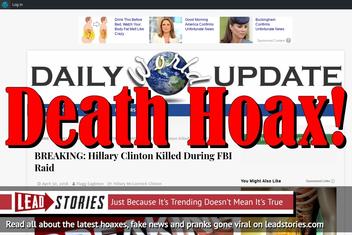 Was Hillary Clinton killed during an FBI Raid in Chappaqua, New York tonight? No, that's not true and it is hardly even trending, so why even bother debunking it? Basically we are doing this one just for old times' sake, it's been a while since the network of Christopher Blair has done a Clinton death hoax (they used to do one every saturday for a period of time).
Also, we wouldn't want Shawn Rice of Business2Community to run out of inspiration:
Our friend @TheShawnRice from @B2Community has been getting #inspired again by @LeadStoriesCom and others (hi @Snopes, hi @PolitiFact, hi @GossipCop, check out https://t.co/ztupbYYZ7v)

He keeps inspiring me to report all their sponsored content to @googlenews #inspiredbyshawn pic.twitter.com/notl0PODdQ

-- Maarten Schenk (@mschenk) April 28, 2018
So, this one's for you Shawn! Feel free to be inspired by this article, I might just get inspired right back to start using this form a bit more frequently too.
The latest Clinton death hoax originated from an article published on April 30, 2018 by Daily World Update and was titled "BREAKING: Hillary Clinton Killed During FBI Raid" (archived here). The story opened:
The FBI showed up at the Clinton compound in Chappaqua, New York tonight with a warrant to search for hidden servers, Blackberries or other physical correspondence included in the case against her for emailing secrets about Benghazi and selling uranium to Russia. Clinton, shouting "get the hell out of my house or I'll kill you," was brought down by more than 103 rounds from 17 agents on the ground.

They all corroborated the story that she came at them with a shotgun, firing between sentences, when they had no choice but to put her down like a rabid dog. Special tactical agent on the scene, Art Tubolls, told Daily World update reporter in the field Sandy Batt:

"Clinton was one tough cookie, see?...She really knew how to evade prosecution like a champ. When it was time to go down she made she went down in a hail of gunfire so magnificent that no person could have survived, let alone felt the pain of death.
Users on social media only saw this bit of clickbait designed to get Trump supporters and conservatives all excited:
They came in unannounced. What happened next is.....
But "Art Tubbols" is just an anagram for "Busta Troll", a nickname of the owner and main writer of the site who is a self-professed liberal troll named Christopher Blair, a man from Maine who has made it his full time job to troll gullible conservatives and Trump supporters into liking and sharing his articles. He runs several other websites, including potatriotpost.us, dailyworldupdate.us and nofakenewsonline.us. Sometimes he is also known under his nickname "Busta Troll". A second man working on the sites is John Prager as revealed in this earlier story we wrote.
The site Daily World Update comes with a clear satire disclaimer at the bottom of each article:
sat·ire ~ˈsaˌtī(ə)r
noun
the use of humor, irony, exaggeration, OR ridicule to expose and criticize people's stupidity or vices, particularly in the context of contemporary politics and other topical issues.
If you disagree with the definition of satire or have decided it is synonymous with "comedy," you should really just move along.
Articles from Blair's sites frequently get copied by "real" fake news sites who often omit the satire disclaimer and any other hints the stories are fake. Blair has tried to get these sites shut down in the past but new ones keep cropping up and he keeps knocking them down.
If you see one of his stories on a site that does not contain a satire disclaimer, assume it is fake news. If you do see the satire disclaimer it is of course also fake news.
We wrote about dailyworldupdate.us before, here are our most recent articles that mention the site: