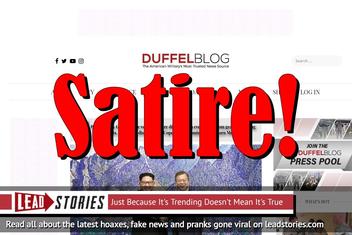 Did North Korean leader Kim Jong-un defect to South Korea? No, that's not true: that story originated on a military themed satire website, if you read it anywhere else you should know it came from there and it is not real.
The supposed defection was reported in an article published on April 30, 2018 by Duffel Blog which was titled "Kim Jong-un defects to South Korea" (archived here) and which opened:
PANMUNJOM, South Korea -- Friday's summit between North and South Korea came to an unexpected halt after North Korean dictator Kim Jong-un used his brief landmark visit to South Korea to defect across the demilitarized zone, sources confirmed today.

Kim crossed the border surrounded by numerous bodyguards and handlers. When this group briefly departed to enable a photo with South Korean President Moon Jae-in, Kim furtively glanced around before dashing at a startled Moon, screaming "I wish to defect!"

Sources close to the U.S. and South Korean governments say Mr. Kim is freely talking about his life as what he calls, "a modern slave," imprisoned in the North for more than 30 years.
While the peace talks and historical meeting with the South Korean leader are real enough (as incredible as that may have sounded a few years ago) the defection did not happen.
The website Duffelblog.com is a military-themed satire website which sports following legal disclaimer on its 'about' page:
Legal

We are in no way, shape, or form, a real news outlet. Everything on this website is satirical and the content of this site is a parody of a news organization. No composition should be regarded as truthful, and no reference of an individual, company, or military unit seeks to inflict malice or emotional harm.

All characters, groups, and military units appearing in these works are fictitious. Any resemblance to real persons, living or dead, or actual military units and companies is purely coincidental.
They are sometimes refered to as the military version of The Onion but that same 'about' page points out:
Duffel Blog is sometimes referred to as "The military version of The Onion," but this is a misnomer. The gaffe was cleared up in May 2012 when Duffel Blog staff successfully conducted an airborne assault on the offices of The Onion News Network so that others would know "The Onion was actually the civilian version of Duffel Blog."
So don't fall for any of their stories...
We wrote about duffelblog.com before, here are our most recent articles that mention the site: