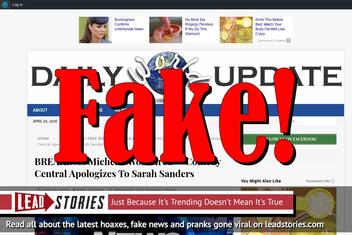 Was comedian Michelle Wolf fired by Comedy Central and let go from her role as contributing writer on The Daily Show after her remarks at the White House Press Correspondents' Association Dinner? No, that's not true: the news originated on a site that makes up news that is guaranteed to get a rise out of conservatives and Trump supporters so they can then be mocked by people in the know when they share it online or leave excited comments under it.
The Wolf firing story appeared in an article published on April 29, 2018 by Daily World Update which was titled "BREAKING: Michelle Wolf Fired -- Comedy Central Apologizes To Sarah Sanders" (archived here) and which opened:
The entertainment industry is reeling this morning after one of their rising stars, Michelle Wolf, has been fired from her show on Comedy Central. She was also dismissed as a contributing writer on The Daily Show. The move comes after Wolf's brutal takedown of Sarah Huckabee Sanders at the White House Correspondent's dinner:

"I think she's very resourceful, like she burns facts and then she uses that ash to create a perfect smokey eye. Maybe she's born with it, maybe it's lies."
The social media summary was quite brief:
Someone finally showed some class.
But Daily World Update comes with a clear satire disclaimer at the bottom of each article:
sat·ire ~ˈsaˌtī(ə)r
noun
the use of humor, irony, exaggeration, OR ridicule to expose and criticize people's stupidity or vices, particularly in the context of contemporary politics and other topical issues.
If you disagree with the definition of satire or have decided it is synonymous with "comedy," you should really just move along.
The owner and main writer of the site is self-professed liberal troll Christopher Blair, a man from Maine who has made it his full time job to troll gullible conservatives and Trump supporters into liking and sharing his articles. He runs several other websites, including potatriotpost.us, dailyworldupdate.us and nofakenewsonline.us. Sometimes he is also known under his nickname "Busta Troll". A second man working on the sites is John Prager as revealed in this earlier story we wrote.
Articles from Blair's sites frequently get copied by "real" fake news sites who often omit the satire disclaimer and any other hints the stories are fake. Blair has tried to get these sites shut down in the past but new ones keep cropping up and he keeps knocking them down.
If you see one of his stories on a site that does not contain a satire disclaimer, assume it is fake news. If you do see the satire disclaimer it is of course also fake news.
We wrote about dailyworldupdate.us before, here are our most recent articles that mention the site: