STORY UPDATED: check for updates below.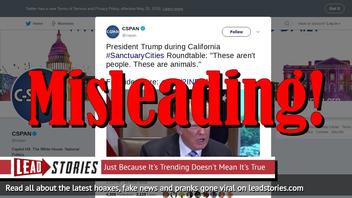 Did President Donald Trump refer to all (legal or illegal) immigrants as animals? A CSPAN clip that has been widely retweeted misses some important context. Trump was being asked about an MS-13 gang member when he made the comments during a roundtable about sanctuary cities in California.
Here is the original CSPAN tweet (archived here):
President Trump during California #SanctuaryCities Roundtable: "These aren't people. These are animals."

Full video here: https://t.co/alyS47LI5V pic.twitter.com/ifXicTHHP0

-- CSPAN (@cspan) May 16, 2018
Note that the tweet caption doesn't mention immigrants.
Trump's words in the clip are:
We have people coming into the country, or trying to come in. We're stopping a lot of them. But we're taking people out of the country, you wouldn't believe how bad these people are. These aren't people. These are animals. And we're taking them out of the country at a level and at a rate that's never happened before. And because of the weak laws, the come in fast, we get them, we release them, we get them again, we bring them out: it's crazy.

The dumbest laws, as I said before, the dumbest laws on immigration in the world. So we're gonna take care of it Margaret, we'll get it done.
That sounds pretty bad in isolation. But the clip omits the context: Trump is talking with Fresno County Sheriff Margaret Mims who is complaining that ICE has fewer powers compared to other law enforcement agencies and that this makes it really difficult for them to talk to gang members etc. in jail. Just before Trump makes his remarks, she can be heard saying:
There could be an MS-13 gang member I know about. If they don't reach a certain threshold, I cannot tell ICE about them.
The MS-13 gang is described on Wikipedia as:
MS-13 (Mara Salvatrucha; also known as simply MS or Mara) is an international criminal gang that originated in Los Angeles, California, US in the 1980s. The gang later spread to many parts of the continental United States, Canada, Mexico, and Central America, and is active in urban and suburban areas. Most members are of Central American origin, principally El Salvador.

In the U.S., MS-13 has an especially heavy presence in California, the Washington, D.C. metropolitan area, New York City and New Jersey, Boston, Charlotte, North Carolina, and Houston. There is also a presence of MS-13 in Toronto, Ontario, Canada.

Members of MS are characterised by tattoos covering the body, previously including the face, and by the use of their own sign language. They are notorious for their violence and a subcultural moral code based on merciless retribution. This cruelty of the distinguished members of the "Maras" or "Mareros" earned them a path to be recruited by the Sinaloa Cartel battling against Los Zetas in an ongoing drug war in Mexico.
On their website CSPAN also indicated the comments were being made about gang members:
During a roundtable with local California officials regarding 'sanctuary cities' policies, President Trump says his administration is busy rounding up MS-13 gang members and deporting them. 'These...
However, many people on Twitter interpreted the video clip without the full context and assumed the president was talking about undocumented immigrants or immigrants in general:
45 refers to undocumented immigrants as "animals"

•45's own grandfather was deported from Bavaria as an undocumented immigrant.
•45's immigration policy would then have banned his own grandfather from entering America#ThisIsAmericapic.twitter.com/aELxTXBak2

-- Qasim Rashid, Esq. (@MuslimIQ) May 16, 2018
Charming. Trumps use ethnic cleansing lingo for people they don't like.

06/06/17 Eric Trump tells Sean Hannity that Democrats who criticize his father "are not even people."

05/16/18 Donald Trump on immigrants: "These aren't people; these are animals." pic.twitter.com/vdPJCZwCSA

-- Mrs. Betty Bowers (@BettyBowers) May 16, 2018
A New New Low--Trump during California sanctuary cities roundtable: "These aren't people. These are animals." #TrumpColluded pic.twitter.com/RJUnkp1SSC

-- Scott Dworkin (@funder) May 16, 2018
Man whose mother and both paternal grandparents emigrated to the U.S. says immigrants are animals.pic.twitter.com/pTKY08Obm2

-- Mark Elliott (@markmobility) May 16, 2018
2018-05-17T20:21:12Z

2018-05-17T20:21:12Z

Even the Twitter account of the Associated Press missed the context and later rectified the situation by deleting a tweet:

AP has deleted a tweet from late Wednesday on Trump's "animals" comment about immigrants because it wasn't made clear that he was speaking after a comment about gang members.

— The Associated Press (@AP) May 17, 2018