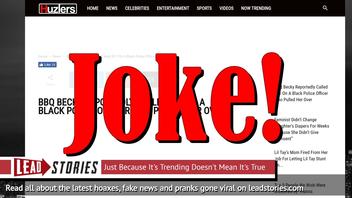 Did a woman commonly refered to as "BBQ Becky" call the cops on an African-American police officer who pulled her over? No, that's not true: the story was made up by a "fauxtire" website that was making fun of the woman who gained internet fame by calling the cops on some black people having a BBQ in an Oakland park.
The new story originated appeared in an article published on May 17, 2018 by Huzlers that was titled "BBQ Becky Reportedly Called 911 On A Black Police Officer Who Pulled Her Over" (archived here) and which opened:
OAKLAND - Days after a video surfaced of an Oakland woman, now known as "BBQ Becky", calling the police on a group of black people barbecuing at the lake in an an area that she claims was "illegal", it is being reported that a new incident regarding BBQ Becky has occurred. According to authorities, BBQ Becky called the police on a black police officer for pulling her over for driving above the speed limit.

Officer Derek Robinson was the officer who pulled over BBQ Becky, according to Derek, when he reached Becky's car, Becky asked why she was pulled over, and then requested for a white police officer. After officer derek refused to, Becky decided to call the police on Derek, and told the 911 operator: "a black cop is trying to give me a ticket".
The woman was already the subject of several internet memes after a video went viral in which she was seen calling the police on someone just trying to have a BBQ in a public park in a location where this was specifically allowed.
More on that:
Two weeks later, Oakland residents held a large cookout in the same area and had the time of their lives. And now, the woman, dubbed by some as #BBQBecky, has become the only meme that matters in this world. Here are some of the hilarious highlights:
Huzlers styles itself as a "fauxtire" website and carries a disclaimer at the bottom of each page:
Huzlers.com is the most infamous fauxtire & satire entertainment website in the world. If it's trending on social media you'll find it here!
According to Splinter News the site is run by Pablo Reyes and David Martinez and according to Buzzfeed Reyes is involved with several other fake news websites. They tend to shy away from political stories, opting instead to write for a more "urban" audience, with stories about rappers, criminals and celebrities.
We wrote about huzlers.com before, here are our most recent articles that mention the site: