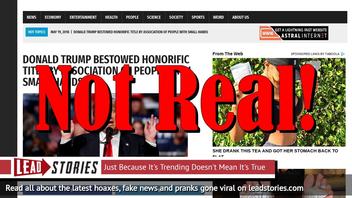 Was President Donald Trump given the honorific title of "Honorary Ambassador for people suffering from Acrodysostosis"? No, that's not true: that news was made up by a website that normally invents stories about bizarre sex acts or weird crimes for entertainment purposes but which now seems to have strayed into the political field.
The story originated from an article published on May 19, 2018 by World News Daily Report which was titled "Donald Trump bestowed honorific title by association of people with small hands" (archived here) and which opened:
Washington, D.C. | The National Organization for Rare Disorders (NORD) has bestowed President Donald Trump this week with the honorific title of Honorary Ambassador for people suffering from Acrodysostosis.

Acrodysostosis is a rare genetic disorder characterized by abnormally small hands and feet with short, stubby fingers and toes that may affect all or some of the fingers and toes.

Donald Trump was officially diagnosed with Acrodysostosis in 1954 at the age of eight years old after his mother noticed "his hands and feet weren't growing normally" according to his latest biography.

Acrodysostosis has also been closely linked to Penile agenesis, a birth defect in humans in which a male child is born with unusually small genitalia or without a penis in certain cases.
Somewhat unusual for World News Daily Report: the National Organisation for Rare Disorders actually exists and the picture is kind of real, but it does not show someone at NORD giving an ambassadorship but depicts Desiree Lyon Howe receiving an award from NORD in 2016.
During a wonderful ceremony last night in Washington D.C., Desiree Lyon Howe, the Executive Director of the APF, was awarded the 2016 Rare Impact Award by the National Organization for Rare Disorders (NORD), which represents 23 million Americans with rare diseases.
The NORD website does not mention giving out any ambassadorships and they have only posted one news item mentioning President Trump this year, an article praising his efforts to lower drug prices:
The National Organization for Rare Disorders (NORD) today issued the following statement in response to American Patients First, the Trump Administration Blueprint to Lower Drug Prices and Reduce Out-of-Pocket Costs: Patients with rare diseases are frequently disproportionately affected by high drug prices.
Acrodysostosis does exist but Trump is not known to suffer from it.
A collection of disease information resources and questions answered by our Genetic and Rare Diseases Information Specialists for Acrodysostosis
The website World News Daily Report is a well known satire website specialized in posting hoaxes and made up stories. The disclaimer on their website is pretty clear about that even though you have to scroll all the way down the page to find it:
World News Daily Report assumes all responsibility for the satirical nature of its articles and for the fictional nature of their content. All characters appearing in the articles in this website - even those based on real people - are entirely fictional and any resemblance between them and any person, living, dead or undead, is purely a miracle.
It is run by Janick Murray-Hall and Olivier Legault, who also run the satirical Journal de Mourréal, a satirical site spoofing the (real) Journal de Montéal. Very often their stories feature an image showing a random crazy mugshot found in a mugshot gallery on the internet or on a stock photo website superimposed over a background of flashing police lights or crime scene tape.
Articles from the site are frequently copied (sometimes even months or years later) by varous fake news websites that omit the satire disclaimer and present the information as real.
We wrote about worldnewsdailyreport.com before, here are our most recent articles that mention the site: