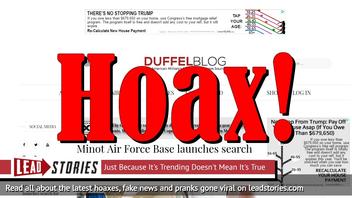 Did a Minuteman nuclear missile go missing at Minot Air Force Base? No, that's not true: the story about the missing nuke was made up by a military satire website that was commenting on the loss of a machine gun and box of grenades at that base. No nuke is missing, that part of the story is not real.
The missing nuke story originated from an article published on May 19, 2018 by Duffel Blog that was titled "Minot Air Force Base launches search for missing Minuteman nuclear missile" (archived here) and which opened:
MINOT AIR FORCE BASE, N.D. -- Airmen stationed at a North Dakota base known for housing the land-based leg of the nuclear triad are frantically searching for a Minuteman III intercontinental ballistic missile that went missing earlier this week, sources confirmed today.

"It was just here," said Lt. Jenna Singleton, a missileer. "Where the hell could this thing could've gone?"

The 78,000-lb nuclear-tipped warhead was found to be missing during a standard inventory check on Wednesday. The incident came just days after Minot reported it had lost a box of grenades, an M240 machine-gun, four Humvees, and its commanding officer.
It is true that an M240 machine gun and a box of grenade launcher ammo recently went missing at the base:
Minot Air Force Base in North Dakota on Thursday said that an M240 machine gun is missing from its weapons inventories. The 7.62 caliber weapon was found to be missing during a standard inventory check on Wednesday, Lt. Col. Jamie Humphries, chief of public affairs for the 5th Bomb Wing, said in a release Thursday evening.
But the website Duffelblog.com is a military-themed satire website which sports following legal disclaimer on its 'about' page:
Legal

We are in no way, shape, or form, a real news outlet. Everything on this website is satirical and the content of this site is a parody of a news organization. No composition should be regarded as truthful, and no reference of an individual, company, or military unit seeks to inflict malice or emotional harm.

All characters, groups, and military units appearing in these works are fictitious. Any resemblance to real persons, living or dead, or actual military units and companies is purely coincidental.
They are sometimes refered to as the military version of The Onion but that same 'about' page points out:
Duffel Blog is sometimes referred to as "The military version of The Onion," but this is a misnomer. The gaffe was cleared up in May 2012 when Duffel Blog staff successfully conducted an airborne assault on the offices of The Onion News Network so that others would know "The Onion was actually the civilian version of Duffel Blog."
So don't fall for any of their stories...
We wrote about duffelblog.com before, here are our most recent articles that mention the site: