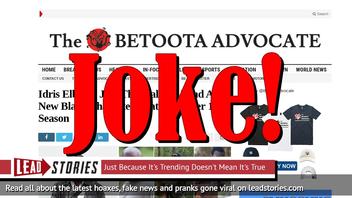 Will Idris Elba be in the ninth season of AMC's The Walking Dead as an "expendable black character" that only appears one season? No, that's not true: that news was published by an Australian satire website, it is not real.
The story originated from an article published by the Betoota Advocate on May 31, 2018 titled "Idris Elba To Join The Walking Dead As New Black Character That Dies After 1 Season" (archived here) which opened:
In keeping with their tradition of casting briefly important black male characters that are played by actors who starred in The Wire, AMC's The Walking Dead has today announced that Idris Elba will be season nine's new expendable black male.

Idris Elba, who's character's name is reported to be one that you don't really remember, unlike Rick or Darryl, hasn't really said much about being in the show.

It is believed Elba was cast after writers argued for weeks over whether or not they would get 'Stringer or Avon' to play the new inclusion to the mostly white team of survivors.
Users on social media only saw this title, description and thumbnail:
Season 9 is expected to be set in an ex-government building that appears safe, until it no longer becomes safe.
But The Betoota Advocate is a satirical website (even though it does not come with an explicit satire disclaimer). In December 2017 The New York Times ran a feature about the founders:
For three years Mr. Overell and Mr. Parker have remained steadfastly in character as proprietors of a rural newspaper. Often compared to the satirical news site The Onion, The Betoota Advocate has become the sardonic voice of disenchanted millennial Australians.
So you should really not believe anything the site says without checking it first...
We wrote about betootaadvocate.com before, here are our most recent articles that mention the site: