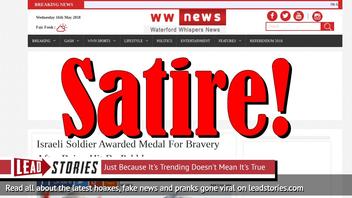 Was Israeli soldier Adam Damkani awarded the medal for bravery after being hit by a pebble launched by a 12-year-old Palestinian boy? No, that's not true. The story about the award for bravery was made up by a satirical website mocking the arms imbalance during the recent Gaza border riots.
It originated in an article published on May 16, 2018 by the Waterford Whispers News that was titled "Israeli Soldier Awarded Medal For Bravery After Being Hit By Pebble" (archived here) which opened:
JUST days after being struck down by a pebble launched from a terrorist 12-year-old Palestinian's catapult, inspirational IDF soldier and Israeli man, Adam Damkani, was awarded the medal for bravery.

Injured in a series of clashes at the Israeli border, which is somehow situated in the heart of Palestine, the fallen 23-year-old soldier was rushed to hospital in the hopes of not needing a stitch, where a team of medical experts helped dress his injuries with a band aid.

"When we saw the scratch on his head we just had to act immediately," Israeli red cross member Jacob Alterman recalled, "he was visibly upset and was crying profusely, asking for his family members.

"We were all a little taken aback at the level of his injury. He even flinched when we tried to clean the abrasion with a cotton bud. Hopefully it won't leave a scar".
The image used in the story is just a random stock photo of an Israeli soldier receiving an insignia:
Download this Officers Of The Idf Reward The Soldier With The Insignia At The Formation In Engineering Corps Fallen Memorial Monument In Mishmar David Israel picture for editorial use now. And search more of the web's best library of celebrity photos and news images from iStock.
The site Waterford Whispers News has a disclaimer page which reads:
Disclaimer
Waterford Whispers News is a fabricated satirical newspaper and comedy website published by Waterford Whispers News.

Waterford Whispers News uses invented names in all its stories, except in cases when public figures are being satirized. Any other use of real names is accidental and coincidental.
For that reason alone you should probably never believe anything they publish.
We wrote about waterfordwhispersnews.com before, here are our most recent articles that mention the site: