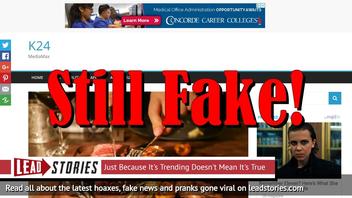 Was a hotel in Davao City shut down for selling human meat? No, that's not true: the exact same cannibalism story has been going around the internet for ages and it keeps getting republished with just a few details like the location changed.
The latest version of the story appeared as an article published on May 16, 2018 titled "Davao City Hotel Shutdown For Selling Human Meat - K24" (archived here) which went:
Manila-A restaurant in the streets of Davao city has been closed down after its activities of selling human flesh came to the knowledge of local leaders.

Police were informed about the restaurant's activities by local leaders and residents, where they rushed to the scene and were shocked to see two human heads; still fresh, oozing blood.

The blood was being drained into a polythene bag, perhaps going to be served as a different delicacy.

The police arrested six women and four men in connection with the crime.

At the time of arrest, they managed to recover an AK-47 rifle while other weapons including sets of grenades, and several mobile phones.

"Every time I went to the market, I observed strange activities going on in the hotel. People who were never cleanly dressed and who looked a bit strange made their way in and out of the hotel, making me very suspicious of their activities. I am not surprised at the shocking revelation," said one of the residents.

A local priest was taken aback by the revelations and couldn't come to terms with having consumed human flesh. He reported to the police how he unknowingly ate human meat.

"I had gone to the restaurant early in the morning for breakfast. I finished my meal and was served with the bill, only to be shocked by 523 pesos.
The attendant noticed my reaction and told me it was the small piece of meat I had eaten that made the bill scale that high. I did not know I had been served with human meat, and that it was that expensive," he said.

Last week, Australian chef Marcus Volke murdered and cooked his girlfriend before killing himself. In Brazil, also last week, a man and two women were arrested for murdering potential nannies and then cooking their flesh into empanadas
The exact same story allegedly happened in a restaurant in Malta, a restaurant in Namibia and a restaurant in Brunei and last week in a Nairobi restaurant (reported by the exact same website, no less).
The sites those stories were published on were all part of a large network of fake news websites that often reused the same hoaxes but set in different countries. After a recent investigation by Lead Stories revealed the network was being run out of Ghana it suddenly shut down:
STORY UPDATED: check for updates below. On April 17, 2018 former First Lady Barbara Bush passed away but a full day earlier an article prematurely announcing her death from a website pretending to be CNN managed to rack up a combined 2.3 million likes, shares and comments on Facebook.
It is not clear if this website is part of the same network or if it is run by somebody copying their content and methods.