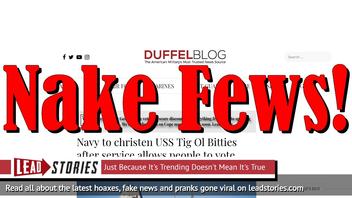 Is the U.S. Navy going to christen a ship "USS Tig Ol Bitties" after an online poll was held to pick a name? No, that's not true: the story came from a military satire website that made up the story for a laugh. It is not real.
The article was published on May 17, 2018 by Duffel Blog under the headline "Navy to christen USS Tig Ol Bitties after service allows people to vote online for ship's name" (archived here) and it opened:
WASHINGTON - Heads are shaking while others cheer after a failed publicity stunt led to the Navy's next Zumwalt-class destroyer being named the USS Tig Ol Bitties, sources confirmed today.

The Navy earlier this year had allowed active duty Sailors and Marines to vote on the name for its new $4-billion dollar stealth attack ship, all in an effort to boost force morale and social media presence.

"I thought there was no way in hell any of the finalist names would fly," said Marine Staff Sgt. Steve Kovacs, "But then I said, hell, you miss 100% of the shots you don't take."

Kovacs and many other Marines were hoping to clench the name USS Lord Mattis in honor of the Defense Secretary, but support for Tig Ol Bitties became overwhelming after the polling website was shared by service-members, civilians, and tweeted repeatedly by musician Kid Rock.
People could be forgiven for thinking it was real because a similar thing happened in Britain when an online poll resulted in the name Boaty McBoatface being chosen for a research vessel:
A proposal by a British government agency to let the Internet suggest a name for a $287 million polar research ship probably seemed like a good idea at the time. Now, the agency is the latest group to see what happens when web users are asked to unleash their creative energy: R.R.S.
In the end the research vessel was named RSS Sir David Attenborough but a small submersible carried aboard was eventually named BoatyMcBoatface:
Boaty McBoatface is the lead boat of the Autosub Long Range-class of autonomous underwater vehicles (AUVs) used for scientific research that will be carried on the research vessel RRS Sir David Attenborough owned by the Natural Environment Research Council (NERC) and operated by the British Antarctic Survey (BAS).
The website Duffelblog.com is a military-themed satire website which sports following legal disclaimer on its 'about' page:
Legal

We are in no way, shape, or form, a real news outlet. Everything on this website is satirical and the content of this site is a parody of a news organization. No composition should be regarded as truthful, and no reference of an individual, company, or military unit seeks to inflict malice or emotional harm.

All characters, groups, and military units appearing in these works are fictitious. Any resemblance to real persons, living or dead, or actual military units and companies is purely coincidental.
They are sometimes refered to as the military version of The Onion but that same 'about' page points out:
Duffel Blog is sometimes referred to as "The military version of The Onion," but this is a misnomer. The gaffe was cleared up in May 2012 when Duffel Blog staff successfully conducted an airborne assault on the offices of The Onion News Network so that others would know "The Onion was actually the civilian version of Duffel Blog."
So don't fall for any of their stories...
We wrote about duffelblog.com before, here are our most recent articles that mention the site: