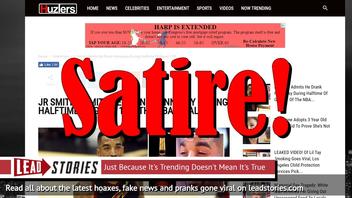 Did Jr Smith admit to drinking Hennessy cognac during the halftime of an NBA finals game? No, that's not true: that story appeared on a website that makes up fake stories under a self-described "fauxtire" label, it did not happen.
The story came from an article published by Huzlers on June 3, 2018 titled "Jr Smith Admits He Drank Hennessy During Halftime Of Game 1 Of The NBA Finals" (archived here) which opened:
CLEVELAND - Days after the controversial Game 1 of the NBA Finals between the Cleveland Cavaliers and the Golden State Warriors, Cavs guard Jr smith admitted that he was slightly drunk during the second half and overtime.

Everybody has heard about the Cavs final play of regulation, when George Hill missed his second free throw that could've gave his team a 1 point lead, which followed by Jr Smith getting the rebound and running out the clock rather than go for the last shot to win the game. The fury on Lebron James' face said it all. But what happened? It is widely believed that Jr Smith though they were up by 1, but how can one make such a careless mistake?

"I was drunk as hell y'all i'm sorry, I wanna say sorry to the fans and Lebron, that henny go crazy and i thought hennything was possible", said JR smith to reporters on Saturday. Jr Smith was apparently drinking Hennessy cognac during halftime, a drink that Jr Smith is apparently known for liking.
In reality not even J.R. Smith himself was sure what happened:
Game 2 of the NBA Finals cannot come quick enough for J.R. Smith. His now-infamous blunder of running out the clock with the game tied instead of giving the Cleveland Cavaliers a chance to take the lead over the Golden State Warriors at the end of regulation in Game 1 is the story that won't quit.
Huzlers styles itself as a "fauxtire" website and carries a disclaimer at the bottom of each page:
Huzlers.com is the most infamous fauxtire & satire entertainment website in the world. If it's trending on social media you'll find it here!
According to Splinter News the site is run by Pablo Reyes and David Martinez and according to Buzzfeed Reyes is involved with several other fake news websites. They tend to shy away from political stories, opting instead to write for a more "urban" audience, with stories about rappers, criminals and celebrities.
We wrote about huzlers.com before, here are our most recent articles that mention the site: