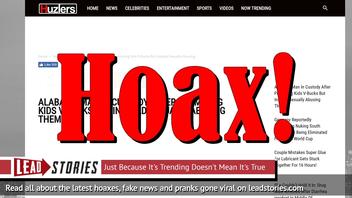 Did 27-year old Michael Hernadez promise to give boys sums of the virtual currency V-Bucks used in the game Fortnite to induce them into having sex with him? And was he arrested for that? No, that's not true, the story was made up by a "fauxtire" website for entertainment purposes. It did not really happen.
The story originated from an article published by Huzlers on June 29, 2018 titled "Alabama Man In Custody After Promising Kids V-Bucks But Instead Sexually Abusing Them" (archived here) which opened:
ALABAMA - A Montgomery man has pleaded guilty to sexually abusing more than 10 boys by offer them free V-Bucks. What exactly are V-Bucks? Fortnite is one of the most popular games that has taken the world by storm the game uses a virtual currency know as V-Bucks like any freemium game you acquire V-Buck by buying them with real money.

Michael Hernadez, 27, turned himself into custody after a breaking news story about him and the allegations was broadcasted on his local news, some of the victims who were sexually abused are furious they never got their V-Bucks as promised by Jorge some are still demanding they get their promised 5,000 V-Bucks.
Note that the story also calls him "Jorge" at some point for some reason.
The man in the picture illustrating the article is actually a real sex offender who tried to have sex with a 15-year-old boy, according to Cleveland.com:
AUSTINTOWN TOWNSHIP, Ohio -- A 22-year-old Youngstown State student is accused of offering Sprite and chicken Alfredo in hopes of having sex with a 15-year-old boy, reports say. Albert Maruna IV of Orwell, Ohio, was arrested by police Tuesday when he arrived at an arranged meeting place in Austintown, WKBN Channel 27 reports.
But it was in Ohio and he promised Sprite and Chicken, not V-Bucks...
Huzlers styles itself as a "fauxtire" website and carries a disclaimer at the bottom of each page:
Huzlers.com is the most infamous fauxtire & satire entertainment website in the world. If it's trending on social media you'll find it here!
According to Splinter News the site is run by Pablo Reyes and David Martinez and according to Buzzfeed Reyes is involved with several other fake news websites. They tend to shy away from political stories, opting instead to write for a more "urban" audience, with stories about rappers, criminals and celebrities.
We wrote about huzlers.com before, here are our most recent articles that mention the site: