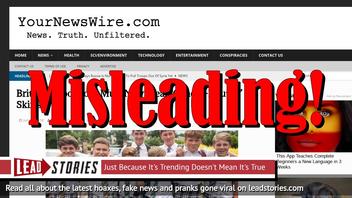 Are school boys in the United Kingdom now required to wear gender-neutral skirts? No, that's not exactly true: the claim was made by a website that habitually takes bits and pieces of real news and then adds some untruths to the headline and/or the first paragraph to make their articles more sensational in order to drive clicks. The headline and first paragraph are simply not real.
The claim originated from an article published by YourNewsWire on June 6, 2018 titled "British School Boys Must Now Wear 'Gender-Neutral' Skirts" (archived here) which opened:
School boys in the United Kingdom are now banned from wearing shorts during the summer and are required to wear "gender neutral" skirts instead.

A high school in Oxfordshire, England has become the first to implement the new policy, forcing boys to ditch their shorts in favor of skirts which school leaders say are "more formal" than shorts.

Zerohedge.com reports: Unsurprisingly, parents are complaining about the bizarre school dress code, which is part of a larger trend of schools adopting "gender neutral" uniforms to make transgender students feel more at home.
The original Daily Mail article the story is based on only mentions one school, so it is definitely not the entire country:
Chiltern Edge Secondary School in Oxfordshire bans boys from wearing shorts It insists those who don't want to wear trousers must opt for skirts instead New uniform policy stipulates a 'trousers or skirts only' policy which was backed by head teacher Moira Green A school has said boys who find trousers too hot in the summer months should instead wear a skirt as part of a 'gender-neutral' uniform policy.
In addition to that it only mentions that shorts weren't allowed before and they still aren't but because of various other rules and regulations pupils are allowed to wear skirts as not allowing them would presumably discriminate against girls and transgender students. So it sounds more like someone found a clever way to technically comply with the rules and still not have to wear trousers in hot weather. Nobody is being forced to wear skirts.
YourNewsWire has published several hoaxes and fake news articles in the past so anything they write or publish should be taken with a large grain of salt. Their Facebook page "The People's Voice" recently lost its verification checkmark according to a report from MMFA.
The Terms of Use of the site also make it clear they don't really stand behind the accuracy of any of their reporting:
THE PEOPLE'S VOICE, INC. AND/OR ITS SUPPLIERS MAKE NO REPRESENTATIONS ABOUT THE SUITABILITY, RELIABILITY, AVAILABILITY, TIMELINESS, AND ACCURACY OF THE INFORMATION, SOFTWARE, PRODUCTS, SERVICES AND RELATED GRAPHICS CONTAINED ON THE SITE FOR ANY PURPOSE.
The site was profiled in the Hollywood reporter where it was described as:
Your News Wire, a 3-year-old website of murky facts and slippery spin, is published by Sean Adl-Tabatabai and Sinclair Treadway -- a Bernie Sanders supporter in 2016 -- out of an apartment in L.A.'s historic El Royale.
RationalWiki described it as:
YourNewsWire (styled as YourNewsWire.com[1]) is an Los Angeles-based clickbait fake news website known for disseminating conspiracy theories and misleading information, contrary to its claimed motto ("News. Truth. Unfiltered").[1]
A while ago we also reported that YourNewsWire had rebranded itself as NewsPunch by changing its domain name in an apparent effort to evade filtering/blocking. It appears the site has changed back to it's old name in the mean time but you can still see the NewsPunch name in the contact email address in the footer.
We wrote about yournewswire.com before, here are our most recent articles that mention the site: