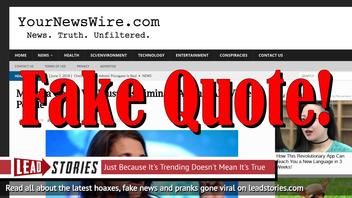 Did Melinda Gates say "We must discriminate against all white people"? No, that's not true: the fake quote came from a website that makes money by taking bits and pieces of real news and adding invented "facts" to the headline and first paragraph of their own version in order to drive traffic that earns them advertising money. She did not say this, the quote is not real.
The quote appeared in an article published by YourNewsWire on June 6, 2018 titled "Melinda Gates: We Must Discriminate Against All White People" (archived here) which opened:
Melinda Gates has called on governments and corporations to start discriminating against white people in order to redress racial discrimination.

The billionaire founder of the Bill & Melinda Gates Foundation told Fortune magazine that she intends to begin sending money to people based purely on their sex and skin color, and encourages others to follow suit.

"It's been incredibly disappointing to watch how few women-led businesses are getting funded," Gates said. "Ultimately, if we want more innovation and better products, we've got to put more money behind women and minorities. That wasn't happening, so I decided to step in and see what I could do to help a little bit."
What she basically said was that she preferred investing money in companies and startups run by women or minorities. Whatever her motives may be for this, it is her own money and the fact that she chooses to invest it based on certain criteria does not mean she is calling on everyone to "discriminate against all white people". That's just misleading.
Gates opens up about her recent role as a limited partner in female-led VC firms.
YourNewsWire has published several hoaxes and fake news articles in the past so anything they write or publish should be taken with a large grain of salt. Their Facebook page "The People's Voice" recently lost its verification checkmark according to a report from MMFA.
The Terms of Use of the site also make it clear they don't really stand behind the accuracy of any of their reporting:
THE PEOPLE'S VOICE, INC. AND/OR ITS SUPPLIERS MAKE NO REPRESENTATIONS ABOUT THE SUITABILITY, RELIABILITY, AVAILABILITY, TIMELINESS, AND ACCURACY OF THE INFORMATION, SOFTWARE, PRODUCTS, SERVICES AND RELATED GRAPHICS CONTAINED ON THE SITE FOR ANY PURPOSE.
The site was profiled in the Hollywood reporter where it was described as:
Your News Wire, a 3-year-old website of murky facts and slippery spin, is published by Sean Adl-Tabatabai and Sinclair Treadway -- a Bernie Sanders supporter in 2016 -- out of an apartment in L.A.'s historic El Royale.
RationalWiki described it as:
YourNewsWire (styled as YourNewsWire.com[1]) is an Los Angeles-based clickbait fake news website known for disseminating conspiracy theories and misleading information, contrary to its claimed motto ("News. Truth. Unfiltered").[1]
A while ago we also reported that YourNewsWire had rebranded itself as NewsPunch by changing its domain name in an apparent effort to evade filtering/blocking. It appears the site has changed back to it's old name in the mean time but you can still see the NewsPunch name in the contact email address in the footer.
We wrote about yournewswire.com before, here are our most recent articles that mention the site: