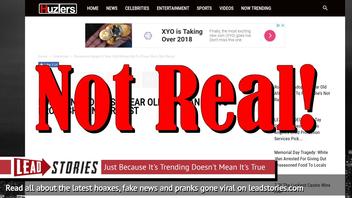 Did Roseanne Barr adopt a 3-year-old African boy named Eyob Tafawa to prove she is not racist? No, that's not true (the part about the adoption). That claim was made by a site that publishes satirical fake news stories (which it calls "fauxtire"), it did not really happen.
The story originated from an article published by Huzlers on June 1, 2018 titled "Roseanne Adopts 3 Year Old African Kid To Prove She's Not Racist" (archived here) which opened:
HAWAII - Days after ABC cancelled Roseanne Barr's sitcom Roseanne for her controversial tweets where she called Valerie Jarrett an "ape", it's being reported that Roseanne has adopted a 3 year old african boy to prove she "isn't racist".

Roseanne has adopted a 3 year old african boy named Eyob Tafawa.
Huzlers styles itself as a "fauxtire" website and carries a disclaimer at the bottom of each page:
Huzlers.com is the most infamous fauxtire & satire entertainment website in the world. If it's trending on social media you'll find it here!
According to Splinter News the site is run by Pablo Reyes and David Martinez and according to Buzzfeed Reyes is involved with several other fake news websites. They tend to shy away from political stories, opting instead to write for a more "urban" audience, with stories about rappers, criminals and celebrities.
We wrote about huzlers.com before, here are our most recent articles that mention the site: