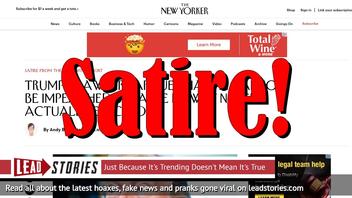 Did President Trump's legal team argue he can't be impeached because he was not actually elected? No, that's not true: even though lawyers have been known to twist truth and logic into a pretzel to defend their clients at all cost this line of defense was made up by a satirical column in the New Yorker magazine. It is not real.
The story originated from an article published by The Borowitz Report on June 4, 2018 titled "Trump's Lawyers Argue That He Cannot Be Impeached Because He Was Never Actually Elected" (archived here) which opened:
WASHINGTON (The Borowitz Report)--In what they believe is a legal masterstroke, lawyers for Donald J. Trump are now claiming that he cannot be impeached because he was never actually elected.

In a lengthy memo sent to the special counsel, Robert Mueller, the lawyers pushed back vehemently against any allegation that Trump was legally elected President.

"Because Russian interference made the election of Donald J. Trump wholly illegitimate, any attempt to remove him from an office that he does not legally hold is clearly impossible," the memo asserted.
Users on social media only saw this title, description and thumbnail:
"A person referred to in a subpoena as 'President' Donald J. Trump simply does not exist," the memo claimed.
Even though it says "Not the news" in the thumbnail image some people may have took that to mean it was opinion or analysis.
The story actually appeared in the satire column of The New Yorker ("The Borowitz Report" by Andy Borowitz) which was acquired in 2012 by the magazine. Although the section with the columns and all the articles in it are clearly marked as satire the stories frequently get confused for real news by people who only see the title and summary on social media and who assume it must be real because the link goes to the actual website of The New Yorker. To them it would look somewhat like this, with an easy to miss "Not the news" being the only indication it is not real:
In part to combat this the main page of The Borowitz Report comes with a clear heading that simply states:
Satire from the Borowitz Report

To be safe, whenever you see a link that goes to any article on the "newyorker.com" website, always check if the rest of the link says "/humor/borowitz-report/" somewhere. If it does, don't believe a thing you read...
We wrote about newyorker.com before, here are our most recent articles that mention the site: