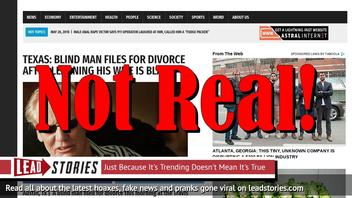 Did blind 59-year old John Paul Davis from Austin, Texas file for divorce after 32 years of marriage after learning his wife is black? No, that's not true: the story was made up years ago by a site that invents articles about bizarre crimes and sex acts but occasionally also about politically charged topics for entertainment purposes. It is not real and the story did not actually happen.
The story originated from an article published by World News Daily Report somewhere in April 2016 titled "Texas: Blind man files for divorce after learning his wife is black" (archived here) which opened:
Austin, Tx | A blind man filed for divorce this morning at the Travis County Courthouse, claiming that his wife hid from him for 32-years, the fact that she was African American.


59-year old John Paul Davis accused his wife, 56-year old Latoyah Johnson, of taking advantage of his handicap to "dishonestly and fraudulently make him believe that she was Caucasian".

He claims that she knew that he would never have accepted to marry her if he "had known that she was black", and consciously hid her origins from him for more than three decades.
Over the years several other sites had copied the story, omitting the disclaimers at the bottom of the page. And somebody recently reposted a link to the original fake article in some Facebook groups causing it to go slightly viral again.
The man pictured with the story is actually Ginger Baker, the drummer of the band Cream:
For Those Who Knew How To Rock, We Salute You! Time to celebrate the legendary "mad men" of rock, beginning with one of the greatest drummers of all time, who just happens to be larger than life! "God Is Punishing Me For My Past Wickedness By Keeping Me Alive And In As Much Pain As...
The website World News Daily Report is a well known satire website specialized in posting hoaxes and made up stories. The disclaimer on their website is pretty clear about that even though you have to scroll all the way down the page to find it:
World News Daily Report assumes all responsibility for the satirical nature of its articles and for the fictional nature of their content. All characters appearing in the articles in this website - even those based on real people - are entirely fictional and any resemblance between them and any person, living, dead or undead, is purely a miracle.
It is run by Janick Murray-Hall and Olivier Legault, who also run the satirical Journal de Mourréal, a satirical site spoofing the (real) Journal de Montéal. Very often their stories feature an image showing a random crazy mugshot found in a mugshot gallery on the internet or on a stock photo website superimposed over a background of flashing police lights or crime scene tape.
Articles from the site are frequently copied (sometimes even months or years later) by varous fake news websites that omit the satire disclaimer and present the information as real.
We wrote about worldnewsdailyreport.com before, here are our most recent articles that mention the site: