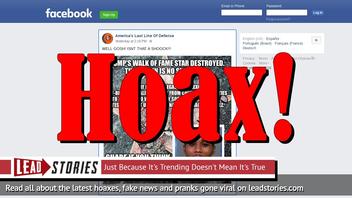 Did an illegal immigrant named Baracco Clintez destroy Donald Trump's star on the Hollywood Walk of Fame? No, that's not true: the perpetrator was made up by a satirical left-wing Facebook page and his description was designed to match every stereotype of things hated by certain right-leaning audiences. Even his name was meant to evoke Barack Obama and Hillary Clinton.
The fake story originated from an article published on July 25, 2018 by the Facebook page "America's Last Line Of Defense" (archived here) with following comment:
WELL GOSH! ISNT THAT A SHOOCK!!!
The meme itself came with following text:
Trump's walk of fame star destroyed. The villain is no surprise. Police say he's an illegal half-mexican, half-black socialist muslim from California with ties to Antifa who was paid by Soros to cast illegal votes and start up BLM. His name is Baracco Clintez.

Share if you think this should be a hate crime!
The Facebook page that posted the meme has following description on its about page:
About
Nothing on this page is real. It is a collection of the satirical whimsies of liberal trolls masquerading as conservatives. You have been warned.

Impressum
Use the force and the truth shall reveal itself. Just not here. Ever.

Products
Good Old Fashioned Liberal Troll Provided Fantasy presented as comedy to the left and a social experiment to the right. Please don't hurt the Trumpanzees. they'll be gone in a few years back to the shadows from whence they came and we'll be back to trolling Tea Turds.
Meanwhile, the real culprit, a man named Austin Clay, has turned himself in to the police:
After bashing through the plaque, the man "called police and advised he had vandalized Donald Trump's star and basically called on himself and said, 'See you soon,'" said Lt. Karen Leong of the LAPD's Hollywood Division.