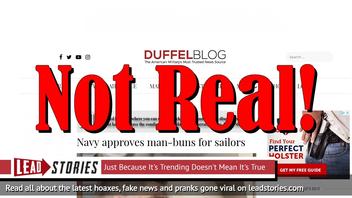 Did the U.S. Navy relax the regulations on approved hairstyles for sailors to include man-buns in order to attract more millenials as recruits? No, that's not true: the story was made up by a site specializing in military-themed satire, it is not real (and probably not safe either, given the number of places on most warships people could get their hair stuck in).
The story originated from an article published by Duffel Blog on July 26, 2018 titled "Navy approves man-buns for sailors" (archived here) which opened:
WASHINGTON -- Citing the importance of recruiting in the 18 to 24-year-old demographic, the U.S. Navy has updated its policy to allow sailors to wear man-buns while in uniform, sources confirmed today.

"We need to open our gates to the best and brightest candidates," said Adm. John Richardson, chief of naval operations. "So what if they laze around in coffee shops writing half-finished screenplays and delaying adulthood into their thirties? It's our job to adapt to them."

The change is not without its critics, most notably a cacophony older veterans leaving "glad I got out when I did" comments on the Navy's public Facebook page. Yet recruiting has already skyrocketed in bougie urban centers across America.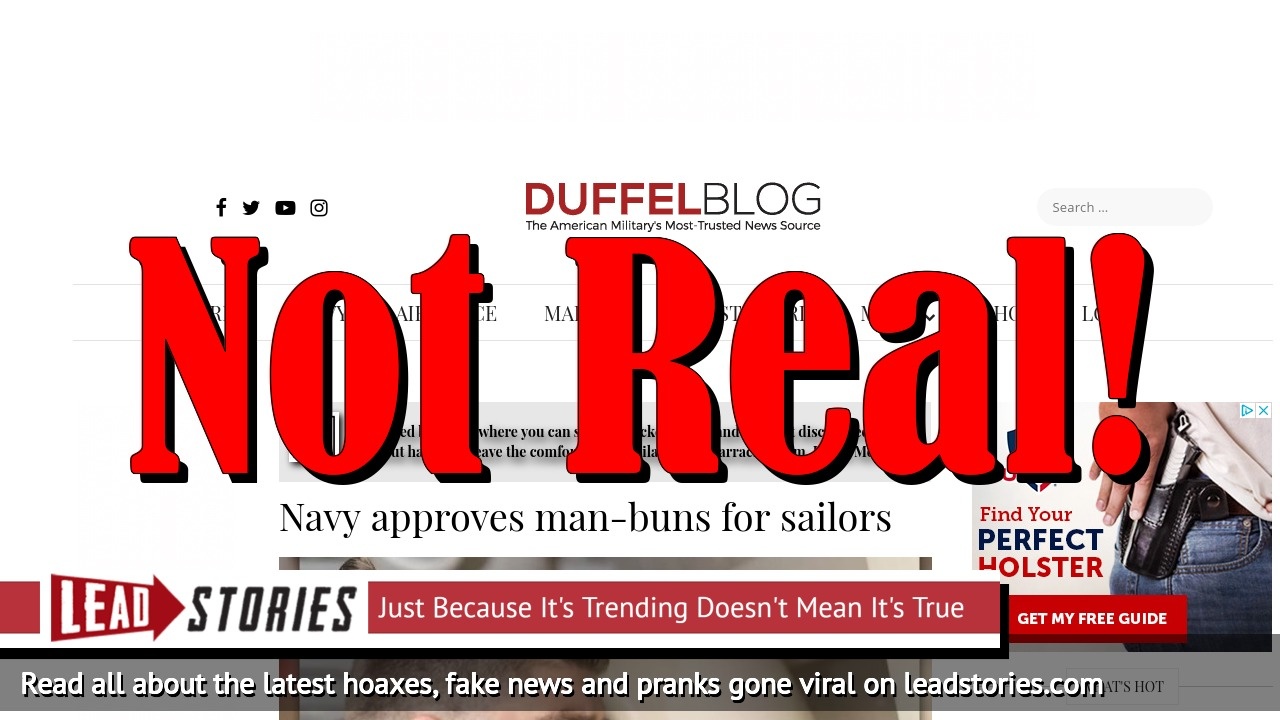 Users on social media only saw this title, description and thumbnail:
"We need to open our gates to the best and brightest candidates," said Adm. John Richardson.
The website Duffelblog.com is a military-themed satire website which sports following legal disclaimer on its 'about' page:
Legal

We are in no way, shape, or form, a real news outlet. Everything on this website is satirical and the content of this site is a parody of a news organization. No composition should be regarded as truthful, and no reference of an individual, company, or military unit seeks to inflict malice or emotional harm.

All characters, groups, and military units appearing in these works are fictitious. Any resemblance to real persons, living or dead, or actual military units and companies is purely coincidental.
They are sometimes refered to as the military version of The Onion but that same 'about' page points out:
Duffel Blog is sometimes referred to as "The military version of The Onion," but this is a misnomer. The gaffe was cleared up in May 2012 when Duffel Blog staff successfully conducted an airborne assault on the offices of The Onion News Network so that others would know "The Onion was actually the civilian version of Duffel Blog."
So don't fall for any of their stories...
We wrote about duffelblog.com before, here are our most recent articles that mention the site: