STORY UPDATED: check for updates below.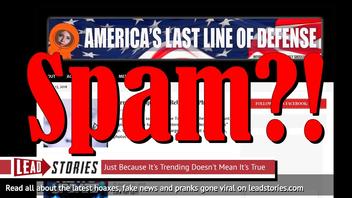 Another one of Christopher Blair's websites bites the dust. Lead Stories just learned that links to any article on the website "America's Last Line of Defense" are now considered "spam" by Facebook. The website in question was satirical in nature with several disclaimers, hints and warnings spread all over the page (including in the header). It published over-the-top fake stories designed to trick conservatives and Trump supporters into sharing them so fans of the site could then mock them on Facebook.
Links to stories on the site were usually posted on a series of Facebook pages run by the site owner on which he had built up large fanbases of Trump supporters and conservatives attracted via custom advertising.
However sometimes links to the stories were also posted outside those pages. Only yesterday a nonsensical article consisting mainly of keywords designed to trigger conspiracy-minded people was published and subsequently posted in at least one Facebook group for Trump supporters, possibly leading to complaints about spamming:
On the 7th day, God created Benghazi and sent an email to the Muslim Brotherhood that Hillary sold uranium in exchange for a copy of Obama's birth certificate. When the Clinton Foundation found out they sold more uranium to the Iranians and then took $400 million in Russian money and gave it to Hamas.
Uh... pic.twitter.com/BgG8gVED3V

-- Alex Kaplan (@AlKapDC) August 12, 2018
Peope trying to share a link to any part of the site are now greeted with messages like this (example collected on Messenger):

This isn't the first of Blair's sites to undergo this fate, an earlier version of the website was taken down in a similar fashinon:
STORY UPDATED: check for updates below. Facebook has blocked the sharing of links from the infamous satirical fake news website " The Resistance: The Last Line Of Defense" as of a few hours ago.
And another one:
Visitors to Freedum Junkshun, one of Chris Blair's (in)famous satirical fake news sites, reportedly can no longer share links from the site on Facebook. We tested it ourselves and were greeted by this message: It is quite strange how a page that doesn't even exist and which returns a 404 error can be considered spam: http://freedumjunkshun.com/thislinkdoesnotexist.
The latest version of the site came (and still comes) with a clear satire disclaimer at the bottom of each article:
sat·ire ~ˈsaˌtī(ə)r
noun
the use of humor, irony, exaggeration, OR ridicule to expose and criticize people's stupidity or vices, particularly in the context of contemporary politics and other topical issues.
If you disagree with the definition of satire or have decided it is synonymous with "comedy," you should really just move along.
The owner and main writer of the site is self-professed liberal troll Christopher Blair, a man from Maine who has made it his full time job to troll gullible conservatives and Trump supporters into liking and sharing his articles. He runs several other websites, including potatriotpost.us, dailyworldupdate.us and nofakenewsonline.us. Sometimes he is also known under his nickname "Busta Troll". A second man working on the sites is John Prager as revealed in this earlier story we wrote.
Articles from Blair's sites frequently get copied by "real" fake news sites who often omit the satire disclaimer and any other hints the stories are fake. Blair has tried to get these sites shut down in the past but new ones keep cropping up and he keeps knocking them down.
If you see one of his stories on a site that does not contain a satire disclaimer, assume it is fake news. If you do see the satire disclaimer it is of course also fake news.
2018-08-13T19:31:30Z

2018-08-13T19:31:30Z

The ban has been lifted approximately three hours ago. According to messages from Facebook support posts containing links to the site "did not violate community standards".