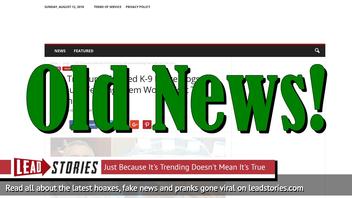 Did a city treasurer named Rodolfo Guerrero Duran of Silao, Guanajuato, Mexico cut the budget for the food of the local police dogs and did this lead to two of them getting very sick and almost starving? Yes, the story is real and it did happen but it was in 2016 and the dogs already recovered. Despite this several sites keep recycling the story to get some easy symphathy clicks in order to make money through advertising.
The story recently reappeared in an article published by a site named gruaja.net on August 11, 2018 titled "City Treasurer Starved K-9 Police Dogs Because Feeding Them Would Cost Too Much | Animals" (archived here) which opened:
A city treasurer from Mexico was reportedly starving their K-9 police dogs because he claimed that their food was too expensive.

Mexican news site El-Mexicano and HOY Estado de Mexico published an article claiming Municipal Treasurer Rodolfo Guerrero Duran of Silao, Guanajuato, Mexico; is responsible for the poor condition of their municipality's K-9 dogs.

According to us.blastingnews.com and wereblog.com, the treasurer decided to cut the budget for the food maintenance of these service dogs as he claimed that the municipality cannot afford to spend money on them.
On social media the story looks terrible, with an image of a starving dog to attract attention:
It also mentions a petition hosted at DailyPetion but gives no link to it. That makes sense: the original 2017 article at Wereblog on which the story is based does have the link (https://www.dailypetition.com/Punish-city-treasurer-who-left-all-police-dogs-to-starve-because-feeding-them-would-cost-too-much-t-937) but it expired long ago. It did have the text of the original petition however:
It is our firm belief that cutting funds for the K-9 units is completely unacceptable and a total disgrace. We, the undersigned, urge the authorities to re-evaluate this measure and start feeding the dogs as soon as possible, in addition to relieving Mr. Duran from office. We stand firm that such people should not be in the service of the community in any circumstances. The canines have done nothing but a wonderful job protecting the local administration and the people of Silao, keeping everyone safe and out of harm's way. I reckon they deserve a little more respect than this!

Please take urgent action for the dogs from Silao. They need our help more than ever. It is imperative they receive proper food before they do not collapse and die!
Digging a little deeper reveals an English language article from 2016 (with Spanish-language source here) that explains what was going on:
The two police dogs of Canino Tactical Group K-9 municipality of Silao recover after they were on the verge of death from malnutrition. Maria Guadalupe Espinoza Corral, councilor of the Partido Verde Political Party in Silao, reported that dogs are already better.
And:
The official demanded that the city conduct a thorough investigation of the case, noting that the dogs health was affected because their food was changed.

Corral Espinoza said the treasurer Rodolfo Guerrero Duran cut the budget for feeding the dogs, who stopped being fed croquettes Diamond premium brand.

The councilor said she requested the food of the sick dogs, who were taken to a veterinary clinic in Leon to be changed.
In other words, the dogs are fine, no need to go sign petitions or share the story to all your friends. All you accomplish by sharing the story further is lining the pocketbooks of some shady website trying to play on people's emotions for financial gain.