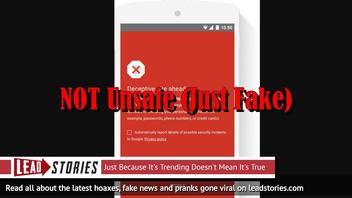 Yesterday Lead Stories reported on a death hoax involving actor Michael J. Fox which was published by a site pretending to be Yahoo! News:
Did actor Michael J. Fox die at Cedars-Sinai Medical Center from complications related to Parkinson's disease? No, that's not true: the death hoax was reported by a fake news website masquerading as Yahoo! News but it is not real.
Today that site has been marked as unsafe by Google's Safe Browsing Initiative, causing it to be show up with a big warning message in Chrome and Firefox browsers. Unfortunately our own debunk of the hoax also got tagged with the same warning message when people tried to visit it.
The ostensible reason given is:
Current status

The site http://www.yahoonews-us.com/2018/08/04/beloved-actor-and-back-to-the-future-star-michael-j-fox-has-died-at-the-age-of-57/ contains harmful content, including pages that:

Try to trick visitors into sharing personal info or downloading software
However to the best of our knowledge none of that was taking place. The warning screen we got in our browser also referenced "phishing", which is defined by Google as
Prevent & report phishing attacks

A phishing attack happens when someone tries to trick you into sharing personal information online.

How phishing works

Phishing is typically done through email, ads, or by sites that look similar to sites you already use. For example, you might get an email that looks like it's from your bank asking you to confirm your bank account number.
We could see where using the name yahoonews-us.com and the Yahoo! News logo could be interpreted as a site "that looks similar to sites you already use", even though no personal data actually got asked for or stolen as far as we could determine when debunking the hoax.
Unfortunately for Lead Stories we use the embedding script from embed.ly whenever we link to an article that is important to our story, and that script brings in the thumbnail image from the page it links to. This caused Chrome and Firefox to throw up that phishing warning on our article debunking the death hoax because it had an image in it that came from the "bad" yahoonews-us.com site. We have now removed the code that brings in the image.