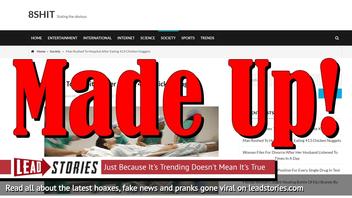 Was 25-year-old Anthony Thomas paralyzed after eating 413 chicken nuggets at McDonald's while trying to break his personal record? No, that's not true: the story was made up by a "fauxtire" site that invents tales of bizarre crimes, weird sex acts and the occasional strange accident. There is no truth to the story at all.
The article making the claim was published by 8Shit on August 20, 2018 with the title "Man Rushed To Hospital After Eating 413 Chicken Nuggets" (archived here) and it opened:
25-year old Anthony Thomas has been taken to the hospital in an ambulance after eating 413 chicken nuggets and getting paralyzed. The young man, who was at McDonald's eating lunch, decided to break his own record of 200 chicken nuggets eaten within an hour. He wanted to double his own record, and he achieved plus 13 more, even though it cost him everything.
A real news article would have at least mentioned the place where this event supposedly happened and it wouldn't use a stock photo also used on a German medical book:
Klinische Notfälle griffbereit - Internistische Akutsituationen auf einen Blick | Marcel Frimmel | ISBN: 9783794528790 | Kostenloser Versand für alle Bücher mit Versand und Verkauf duch Amazon.
Furthermore, 8shit.net carries a disclaimer on its about page that reads:
8Shit is a satire and humor website.

It contains cutting edge satire on a diverse range of topics.

The website publishes fake news, shocking rumors and reports with incisive sarcasm, and humor.

We also post crazy real news which often sounds too good to be true.
And an additional disclaimer in the footer of every page:
8Shit is a satire news and humor website. All its content is fiction (except those posts under the "serious" category) and shouldn't be taken as real. All references, names and marks or institutions in this website are used as contextual elements, like in any novel or science-fiction story.
We wrote about 8shit.net before, here are our most recent articles that mention the site: